Flan is one of the easiest and most delicious Spanish desserts. Homemade flan is well worth making, I hope you'll try it!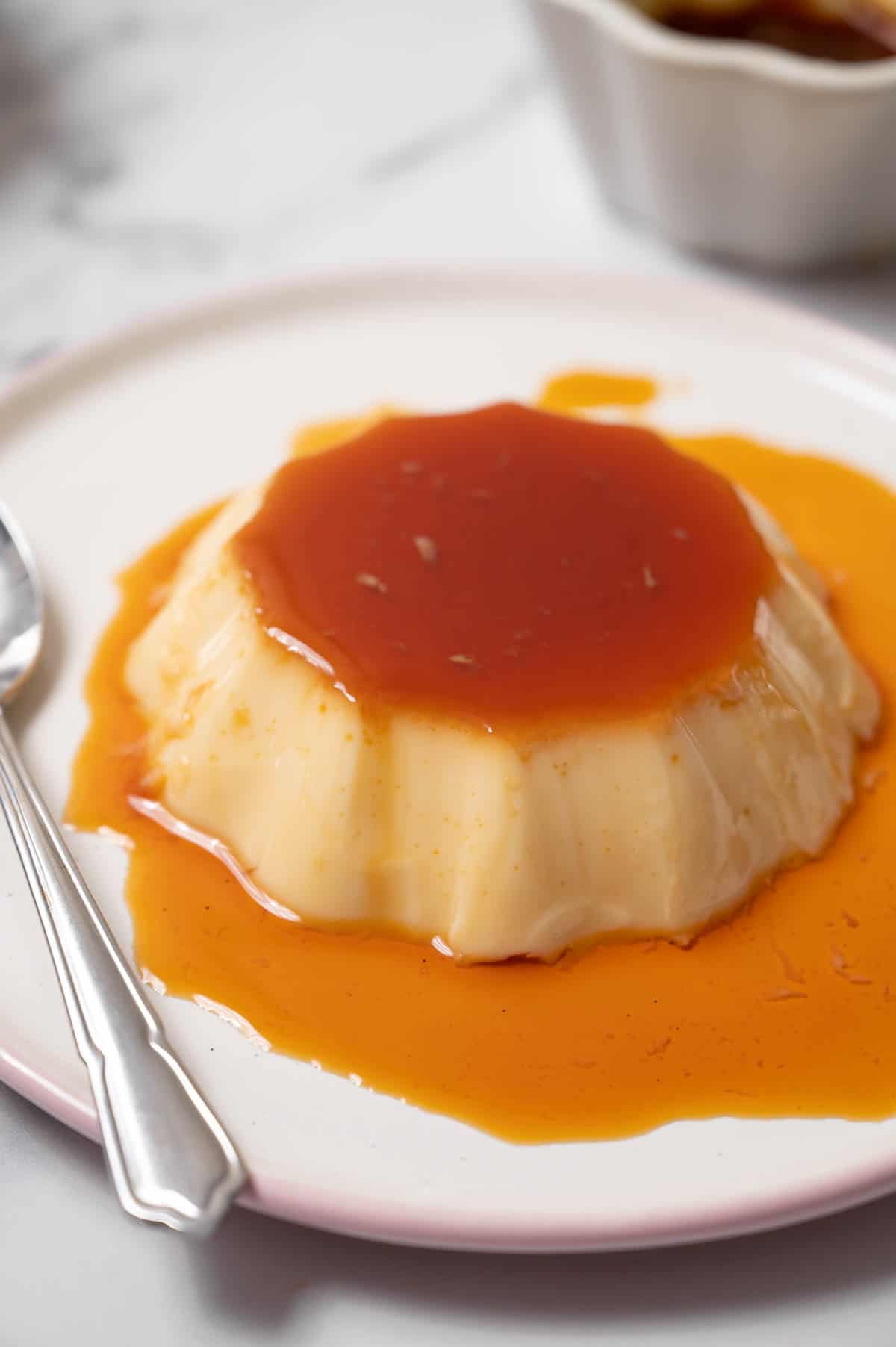 I hated flan when I first moved to Spain.
What was all the hype about? From what I could see, it was just a mushy goo. The line between flan and baby food seemed pretty thin.
But then I realized. I just hadn't been eating the right flan. I was sitting at a restaurant in Madrid, happily chowing down on roast pork, when the waiter handed me the dessert menu. Maybe it was the wine, or just a desire to try one last time, but I chose the flan. It came out wobbly and jiggly on the plate, like some sort of beautiful custardy dream.
To this day it was the best flan I've ever tried! The flavor of vanilla and caramel was delicious, and the texture was so silky smooth  I thought it would melt on my tongue. Ever since that flan, I've been trying to recreate it at home. 
This recipe is as close to the real thing as I've ever got! It's super simple (just four ingredients), and effortlessly delicious. The technique isn't too hard, but it does take concentration and good timing to work with the sugar syrup before it hardens too much.
But trust me, the final result is worth the extra focus.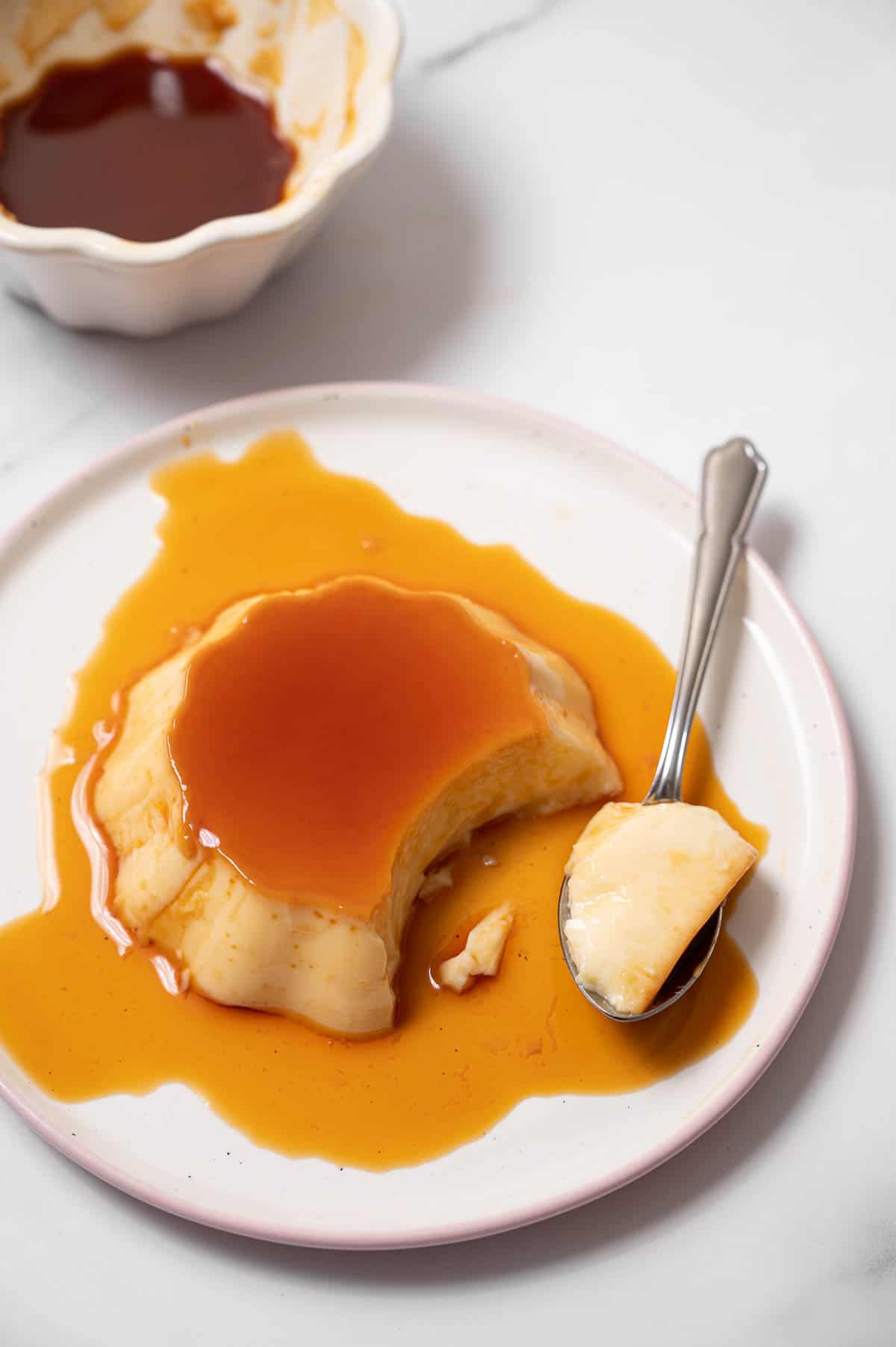 Classic Spanish Flan Recipe
Now I understand why flan is one of the most popular Spanish desserts!
A good flan has the texture of a just-firm-enough custard. It should wiggle and jiggle on the spoon, and still be silky smooth when you bite into it. The sticky sauce on top is a simple caramel; just melted sugar that goes into the ramekin before the custard mixture. 
So how do you make this Spanish flan recipe? You can see all of the ingredients and steps below. For an extra hit of acidity and sweetness, serve with fresh, tart berries. Raspberries are perfect, so use a heavy hand!
Watch Me Make This Flan!
Key Ingredients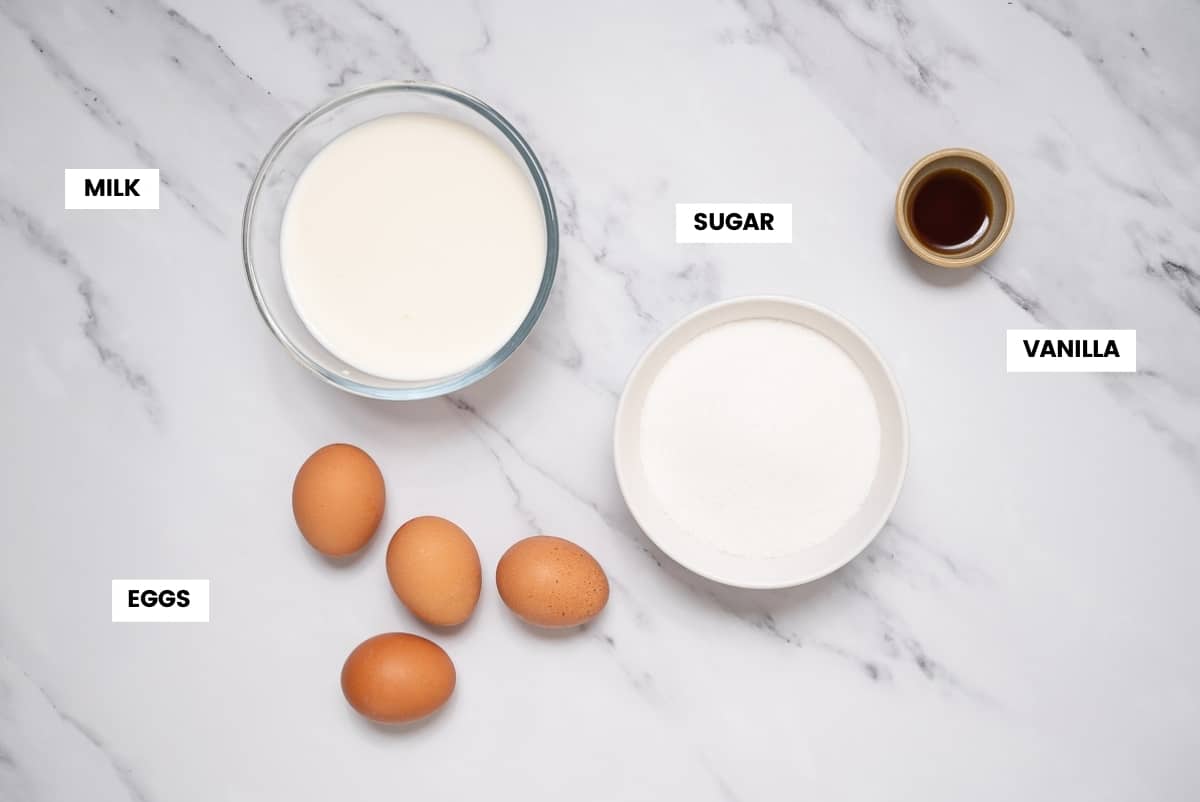 Key Ingredients: Milk, sugar, vanilla extract, and eggs.
Ingredient Notes & Substitutions
This flan only has four ingredients — but there are still some tricks!
Eggs: Use room temperature eggs for this flan. This recipe calls for four large eggs, but you can experiement using a mix of eggs and egg yolks if you want a denser flan. For every full egg you omit, substitute two yolks.
Milk: Use whole milk here! You can also substitute part heavy cream if you'd like.
Vanilla: I use top quality pure vanilla extract but you could also use vanilla bean paste. Both are delicious.
Vanilla Substitutes: If you'd prefer a vanilla-free flan for some reason, a tablespoon of citrus zest is the perfect substitution.
Flan Recipe: Step by Step
Follow along with my step-by-step photo tutorial here, or keep scrolling down for the full printable recipe card with measurements.
Steps 1-2: Start by making the caramel. Put the sugar into a saucepan and heat over medium-low, stirring frequently, until it turns into a golden brown syrup. In the meantime, place your ramekins on a baking tray and surround them with hot water (bain-marie).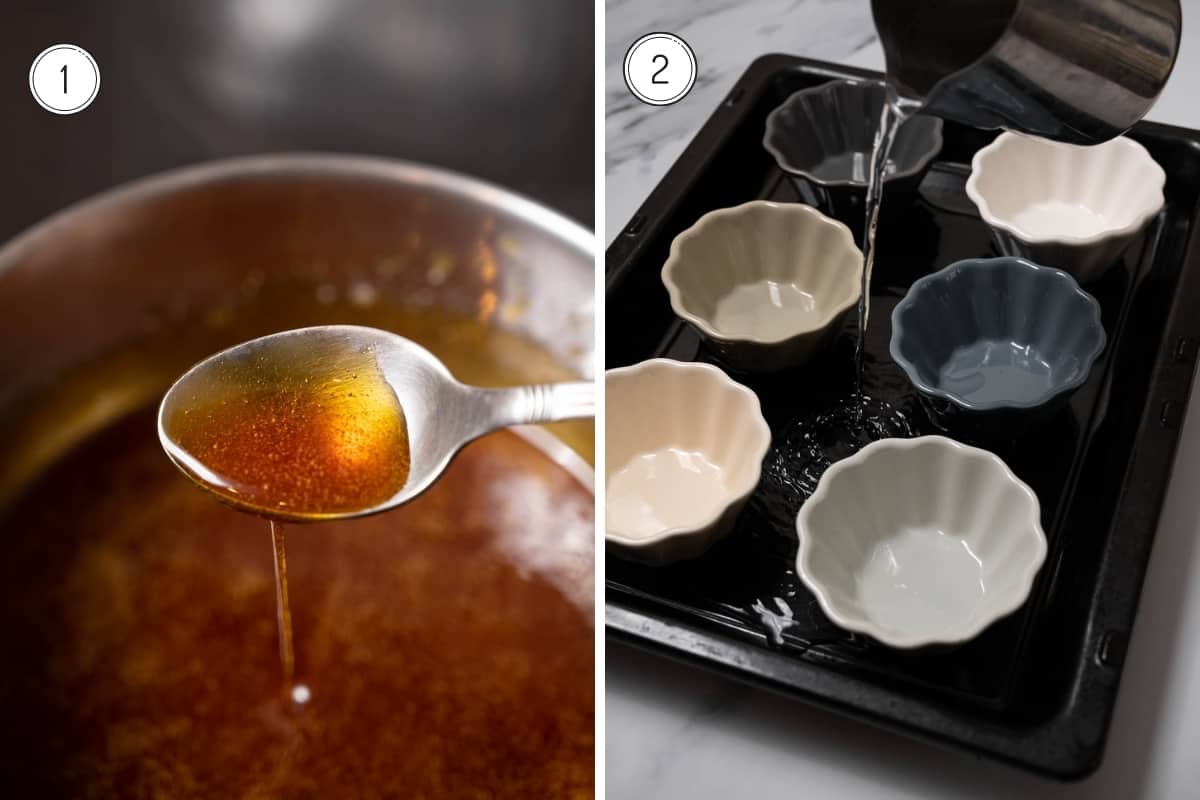 Steps 3-6: Pour the caramel into the ramekins. Then make the custard. Start by cracking the eggs into a large mixing bowl. Add the sugar and beat until creamy.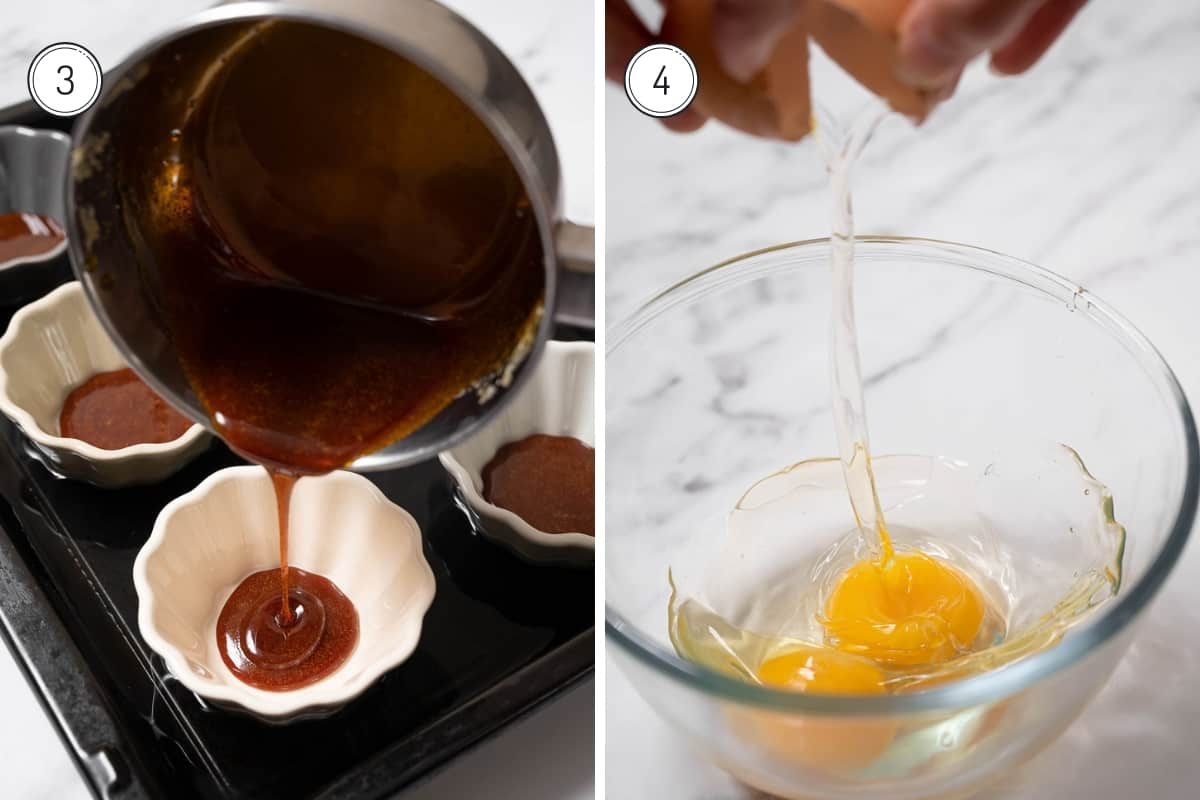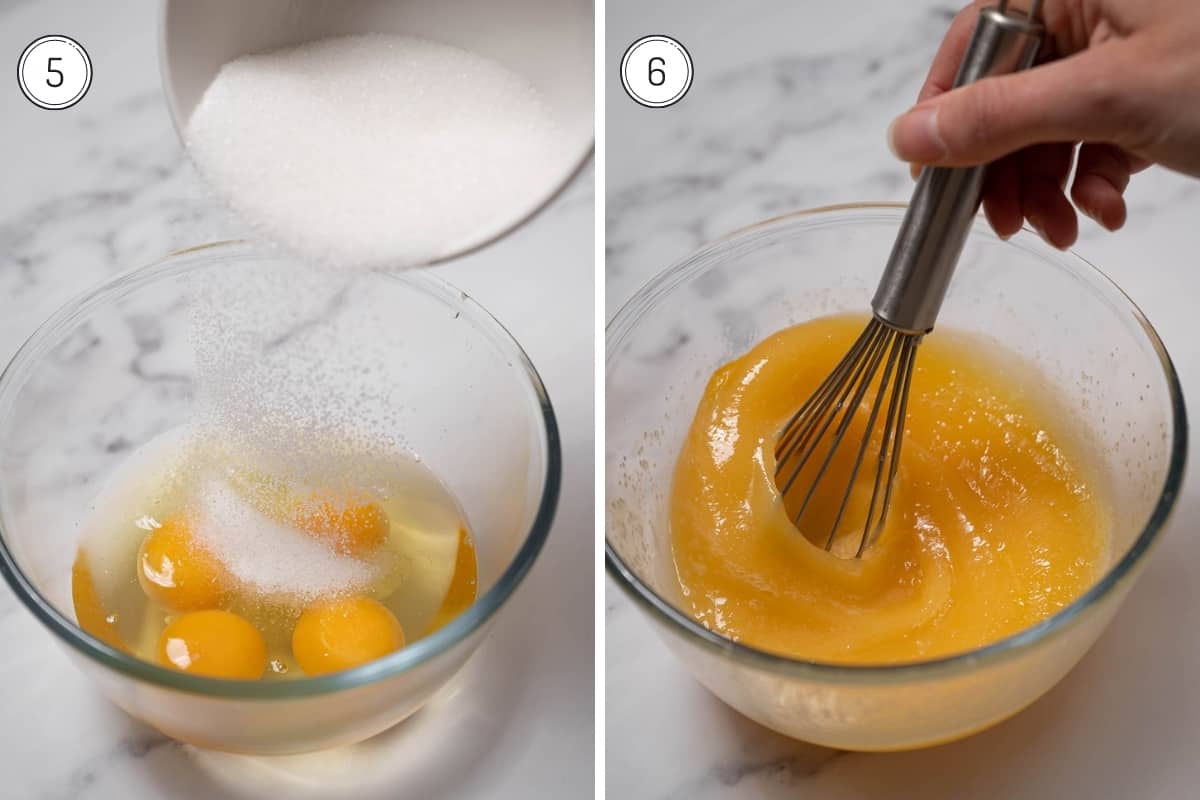 Steps 7-10: Add the milk and vanilla and beat until well combined. Then pour into the ramekins.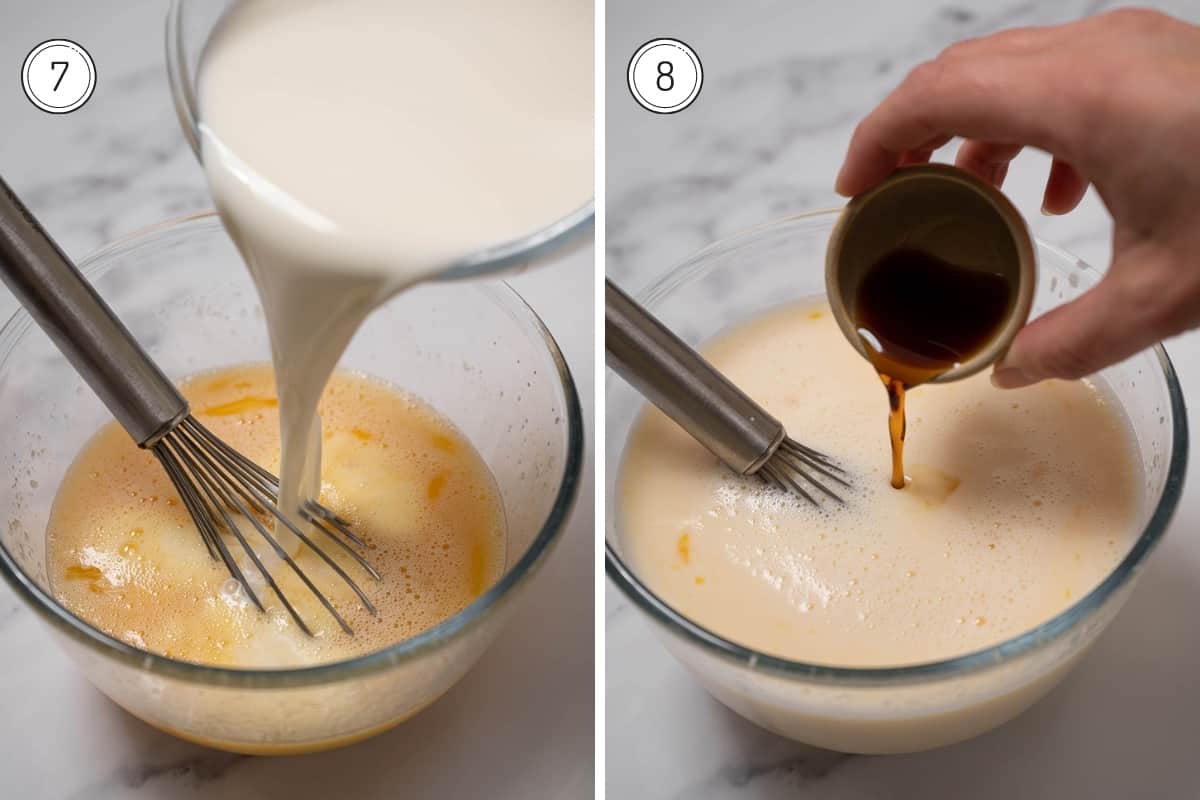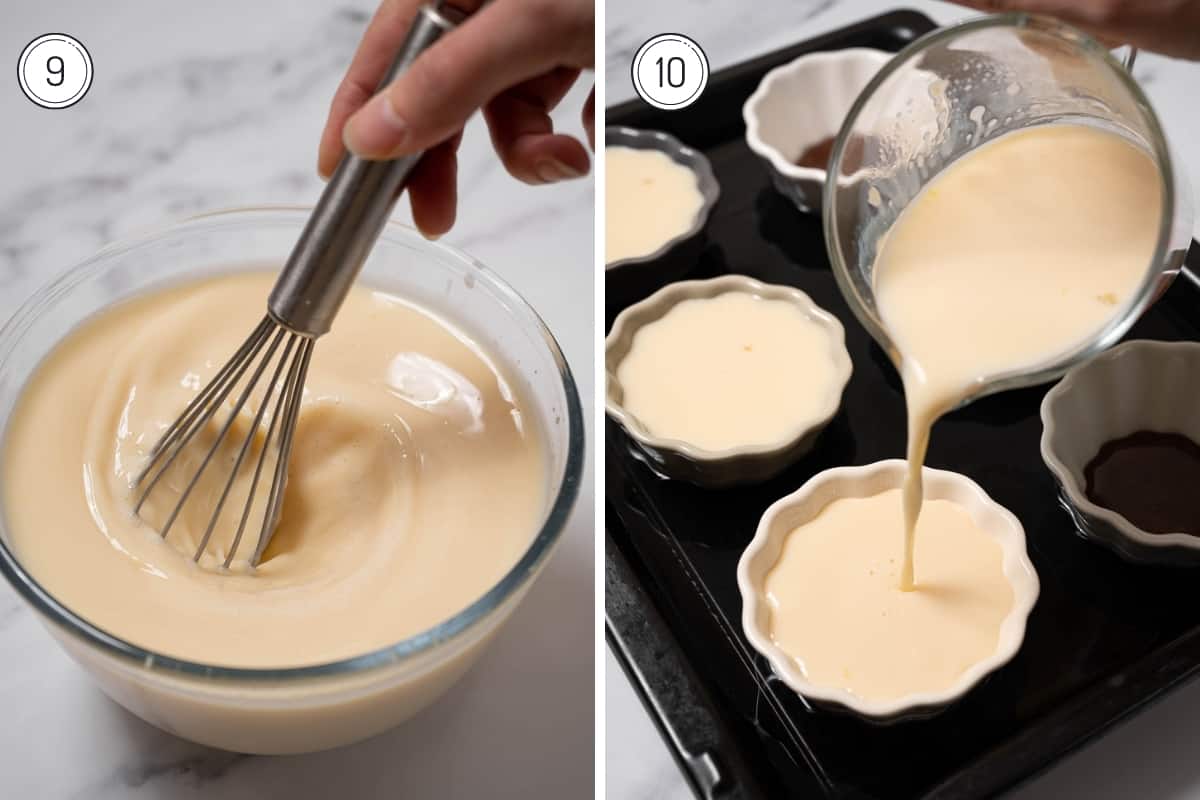 Steps 11-12: Cover with foil and put in the oven. Bake for about 40 minutes (until just set — the size of your mold will affect the time). Then remove them from the water and let them come to room temperature. Finally, put them in the fridge overnight (or for at least 6 hours).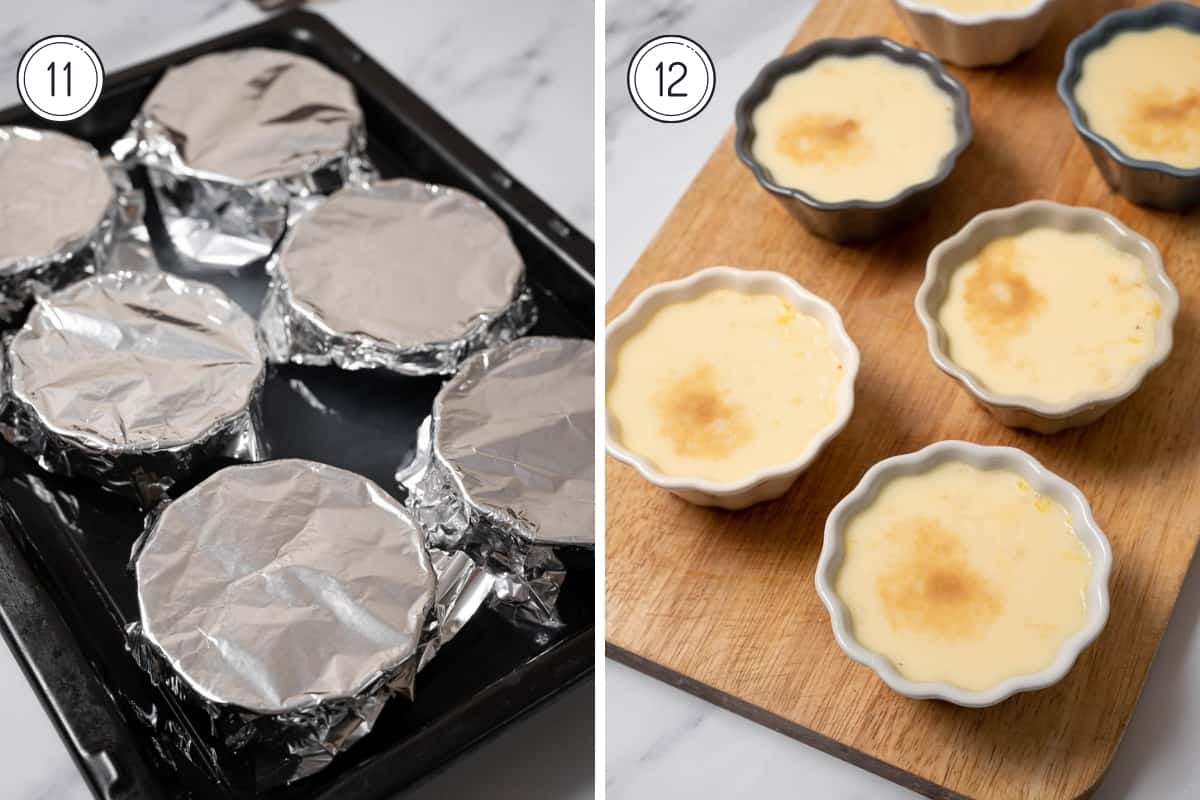 Steps 13-14: Finally, it's time to eat your flan! Remove the foil and run a butter knife around the edge of the mold. Flip carefully onto a serving plate and enjoy!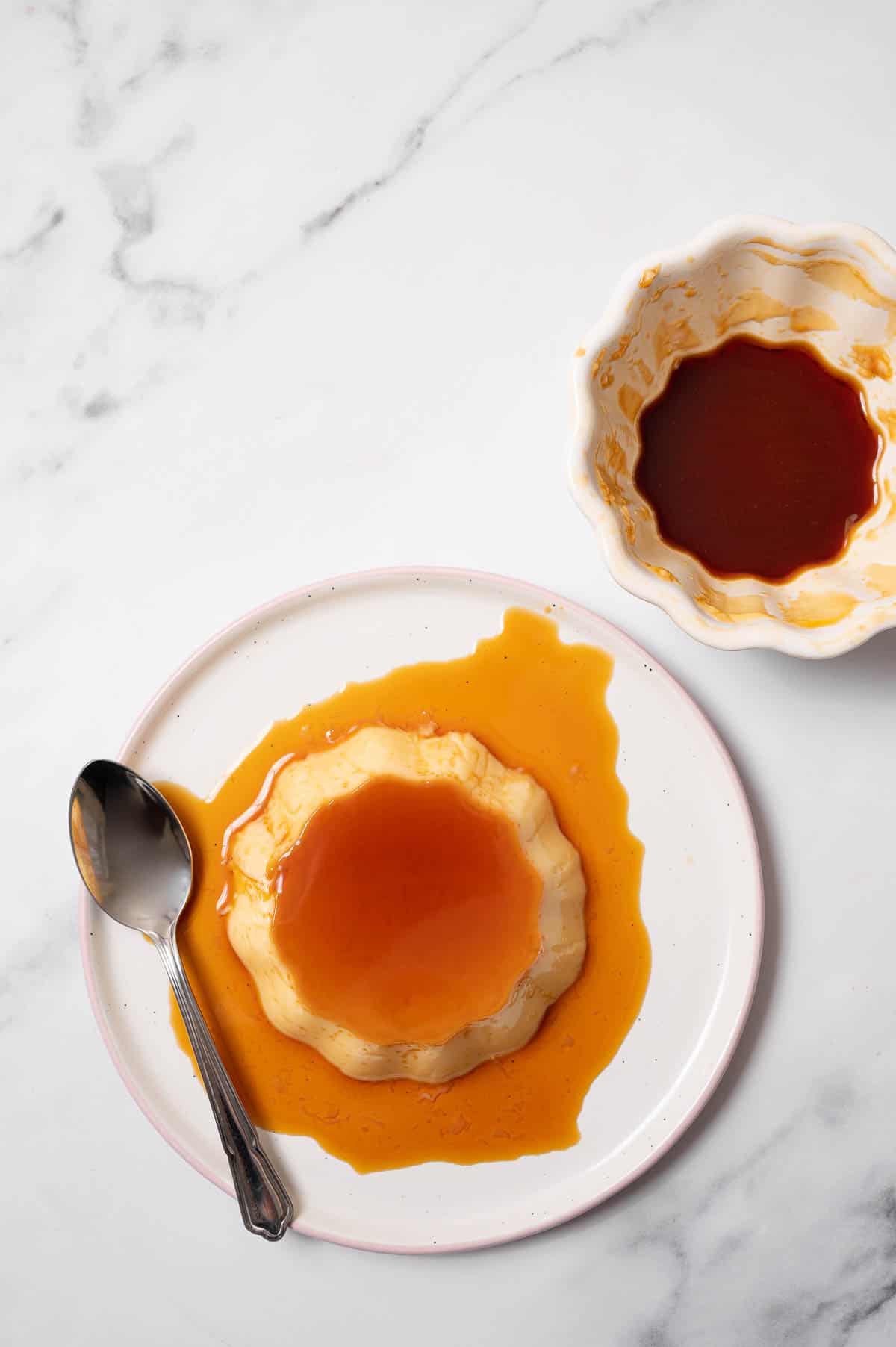 More Traditional Spanish Desserts
If you love this flan recipe, don't miss these other easy and delicious Spanish dessert recipes!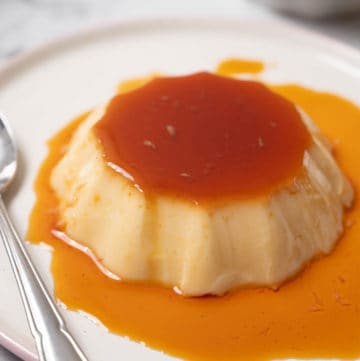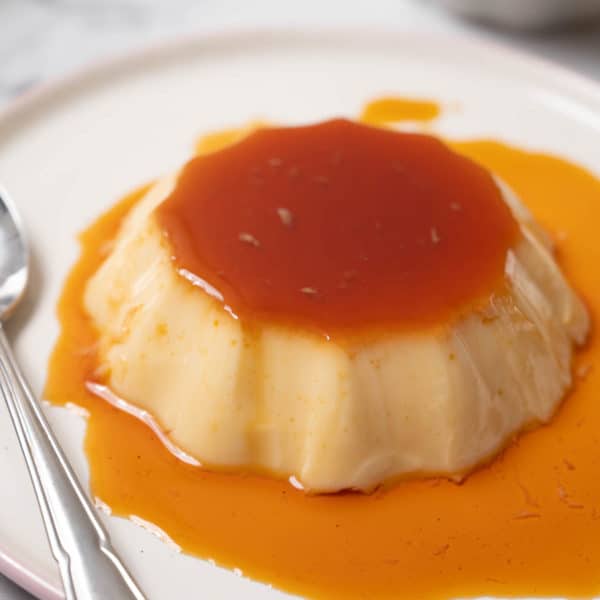 Authentic Spanish Flan Recipe
This classic Spanish flan recipe is so simple it's almost criminal. Just 4 ingredients and a handful of steps will get you a silky smooth flan with a devilishly gooey caramel.
Print (images optional)
Pin
Rate
Servings: 6 servings
Calories: 288.9kcal
Author: David Pope
Instructions
Preheat the oven to 300°F (150°C).

Start by preparing the ramekins (you could also use one larger mold if you prefer): put six of them (3/4 cup volume) on a 13-inch baking dish. Fill the dish with hot water (use a kettle or the hottest water from the tap). The warmth is important here, since it will keep the ramekin warm when the sugar syrup goes in and stop it from hardening.

Cook 1 cup of the sugar over medium-low heat for about 10 minutes until it liquefies and turns a light golden brown color. You'll need to keep a watchful eye on the sugar here, to stop it from burning.

Take it off the heat and quickly pour it into the ramekins. If it starts to harden midway through, put it back on the heat and stir until it's smooth again. Set aside while you make the rest of the flan.

In a large mixing bowl, gently mix together the eggs with the remaining 1/2 cup of sugar until creamy.

Add the milk and vanilla and stir until well-combined.

Divide the flan mixture evenly among the six ramekins, pouring right on top of the caramel. Cover each ramekin with aluminum foil and tightly seal. Bake in the oven for 40 minutes to one hour, or until it wobbles and jiggles when you lightly shake the ramekin. If making small ramekins you will likely only need 40 minutes. If making a large mold you may need the full hour. Quickly check and jiggle when unsure.

Take the ramekins out of the water-filled baking dish and set aside to cool to room temperature. Then place in the fridge covered with foil and chill for at least 6 hours (preferably overnight).

To serve, take a butter knife and run it around the inside of the ramekin. Quickly (and gently!) flip the ramekin over the plate. The caramel should run out to coat it as a sauce. If any of the caramel has hardened and stuck to the ramekin, just leave it!
Nutrition
Calories: 288.9kcal | Carbohydrates: 54.27g | Protein: 6.25g | Fat: 5.43g | Saturated Fat: 2.43g | Cholesterol: 117.25mg | Sodium: 77.25mg | Potassium: 147.84mg | Sugar: 54.28g | Vitamin A: 290.16IU | Calcium: 108.33mg | Iron: 0.51mg
Update Notice: This post was originally published on May 15, 2020, and was republished with new text and photos on September 22, 2021.
Photography by Giulia Verdinelli
Have you tried my authentic Spanish flan recipe? Let me know how it turned out in the comments below!