Planning a trip to the Rioja region? This part of Spain is a paradise for wine lovers, with endless activities and tastings. Here are our tips for the best Rioja wineries and wine tours!
Even if you know next to nothing about wine, you've probably heard of Rioja. And if you're a wine enthusiast, you're definitely familiar with this popular and prolific winemaking region! 
La Rioja, Spain is definitely worth a visit for anyone who wants to learn more about Spanish wine. But it's also bursting with other attractions, from beautiful scenery to mouthwatering cuisine.
We've spent some time exploring its vineyards and valleys, and we've got plenty of trip-planning tips. Read on to discover the best wineries, wine tours, and more in the Rioja region.
Introduction to Rioja Wine
If you've ever had a Spanish red wine, there's a pretty good chance it was a Rioja. This is one of the most prestigious and widely available types of Spanish wine. In fact, Rioja is one of only two winemaking regions in Spain with DOCa (denominación de origen calificada) status.
The Rioja wine region is located in northern Spain, nestled into the Ebro river valley. Most Spanish wines are named not after the grapes they're made from, but the place where they're produced—and Rioja is the perfect example. Most of it comes from the province and autonomous community of La Rioja, although some parts of the Basque Country and Navarre also produce Rioja.
Rioja contains three sub-regions: Rioja Alta, Rioja Alavesa, and Rioja Oriental. Differences in elevation and soil types in these areas distinguish the wines produced in each.
Fun Fact: Rioja Oriental used to be known as Rioja Baja, due to its lower altitude. The name was changed in 2018, in order to avoid the mistaken assumption that "baja" implied lower quality, when in fact it simply refers to the area's elevation.
Winemakers grow all different kinds of grapes here, but the majority are tempranillo and garnacha. And although white Rioja does exist, the vast majority of it is red. 
You might also hear Rioja wines referred to as either "traditional" (aged in American oak barrels) or "modern" (aged in French oak barrels). But no matter which type you're drinking, we doubt you'll be disappointed.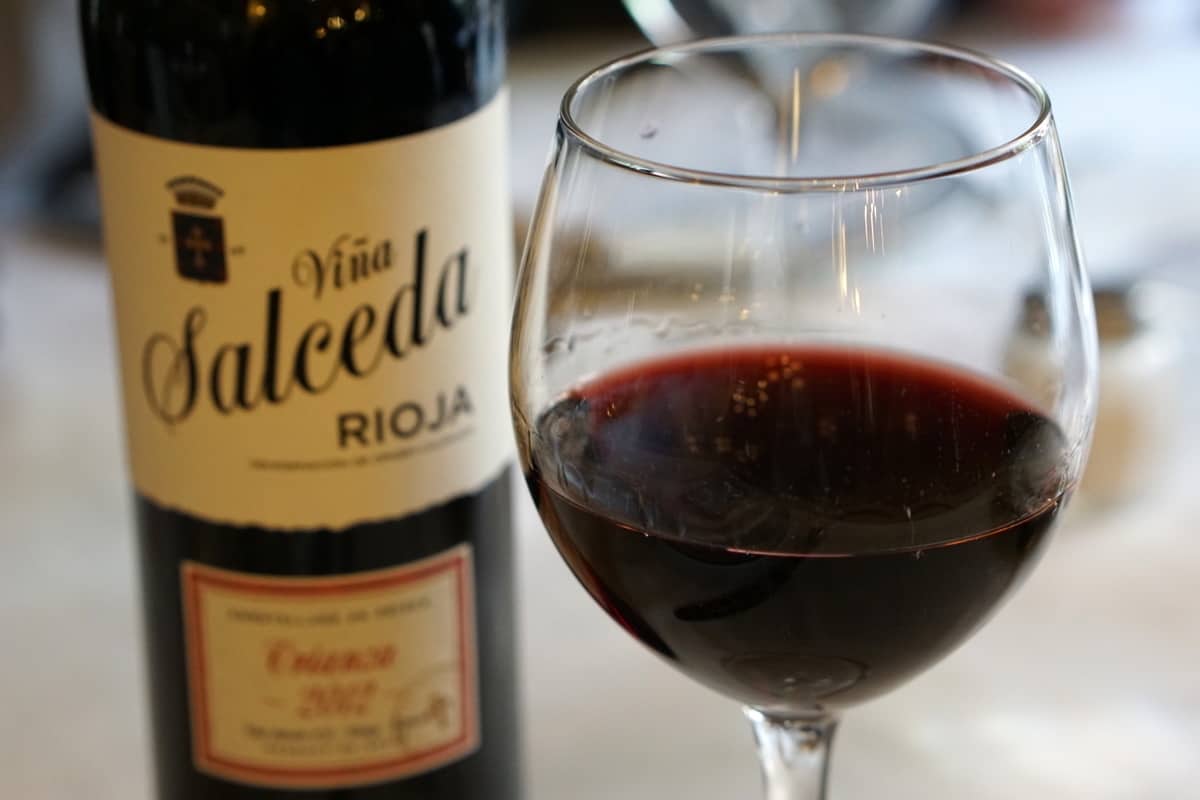 Best Rioja Wineries
There are literally hundreds of wineries in La Rioja… so if you're hoping to visit one, you won't be short on options! And if you need some help planning your itinerary, we've got you covered. Here are our top picks for the best Rioja wineries to visit.
Baigorri
This is a medium-sized winery, known for its modern design and breathtaking views of Rioja vineyards. Interestingly, Bodegas Baigorri doesn't use any mechanical tools to move the grapes and wine; it uses a vertical process that relies fully on gravity. The on-site restaurant is also a great place to stop for lunch or a snack (accompanied by perfect wine pairings, of course).
Bodegas Carlos San Pedro Pérez de Viñaspre
If you venture to Rioja Alavesa, check out this unique family-owned winery located in a subterranean cave. You can take a short tour to learn about local winemaking techniques, then enjoy a Rioja wine tasting eight meters underground! Bodegas Carlos San Pedro Pérez de Viñaspre is an ideal setting to sample some of the best Rioja wine, straight from the source.
Campo Viejo
This is one of Spain's largest bodegas, home to 70,000 barrels! Campo Viejo is impressive not only for its sheer size and the amount of wine it produces, but also its interesting architecture. It's totally worth it to take a tour here, if only to see the cavernous barrel and bottle rooms in person.
Marqués de Riscal
This exceptional winery will amaze you before you even walk in the door. The Ciudad del Vino de Marqués de Riscal was designed by Frank Gehry (of Guggenheim fame). But don't let its ultramodern architecture fool you; Bodegas Marqués de Riscal has been making wine since 1858.
Muga
Bodegas Muga is located in Haro, site of the famous Haro Wine Festival. You'll find it in the Barrio de la Estación (named after the historic train station), within walking distance of several other noteworthy wineries. We highly recommend visiting the tasting room and taking a tour.
Roda
This place is located just a five-minute walk from Muga, so there's no reason not to visit both! Bodegas Roda produces traditional Riojas made from tempranillo, graciano, and garnacha grapes. It offers a variety of experiences, from private wine tours and tastings to gourmet picnics and even art exhibitions.
López de Heredia
This winery represents a perfect fusion of tradition and modernity. López de Heredia is a huge complex of buildings and cellars that's been expanding for the past 100 or so years, following the vision of its eponymous founder (Rafael López de Heredia y Landeta). Take your time to see as much of it as possible, and make sure to try the famous Tondonia wine—red or white! 
Vivanco
Located in the beautiful village of Briones in Rioja Alta, Vivanco is much more than just a winery. It's also home to one of the world's best wine museums.
If you want to really dive into the details and history of Spanish winemaking, this is the place for you! Set aside plenty of time to explore the museum's four floors, from the corkscrew collection to the antique wine press.
Bodegas Ysios
This iconic winery in Rioja practically begs for a visit. The one-of-a-kind building was designed by architect Santiago Calatrava, inspired by the undulating peaks of the Sierra de Cantabria. Bodegas Ysios offers various Rioja wine tours and experiences, from a standard tasting to a private tour of the barrel room and vineyards.
What to Eat in La Rioja
It's pretty clear what you'll be drinking here—but what about food? If you ask us, all La Rioja winery tours and tastings should include snacks. And of course, we would never pass up the opportunity for a multi-course meal with Rioja wine pairings.
La Rioja certainly has its specialty dishes, and you'll notice that many of the traditional restaurants here have similar menus. Lamb chops, artichokes, roasted peppers… these are just a few regional favorites. But there are also plenty of places that put a unique twist on traditional Riojan and Spanish cuisine. We recommend sampling plenty of both!
Restaurants in La Rioja
Start at Asador AKER, a historic family-owned spot in Cuzcurrita de Río Tirón. Its rustic and cozy dining rooms are the perfect setting to enjoy a classic meal of grilled lamb or goat, along with roasted vegetables and local bean stew. Another great place to try authentic Riojan cuisine is Los 4 Arcos in Briones.
If you're looking for something a bit more modern, try one of the Michelin-starred restaurants in La Rioja. Venta Moncalvillo and Restaurante Marqués de Riscal (next door to the winery of the same name) are both known for their innovative takes on local flavors, always incorporating fresh and seasonal ingredients.
Many of the best wineries in Rioja also have their own on-site restaurants—the perfect choice if you want to spend as much time as possible near the vineyards! We suggest enjoying cured meats, cheeses, or other Spanish tapas to keep hunger at bay as you enjoy all those wine samples.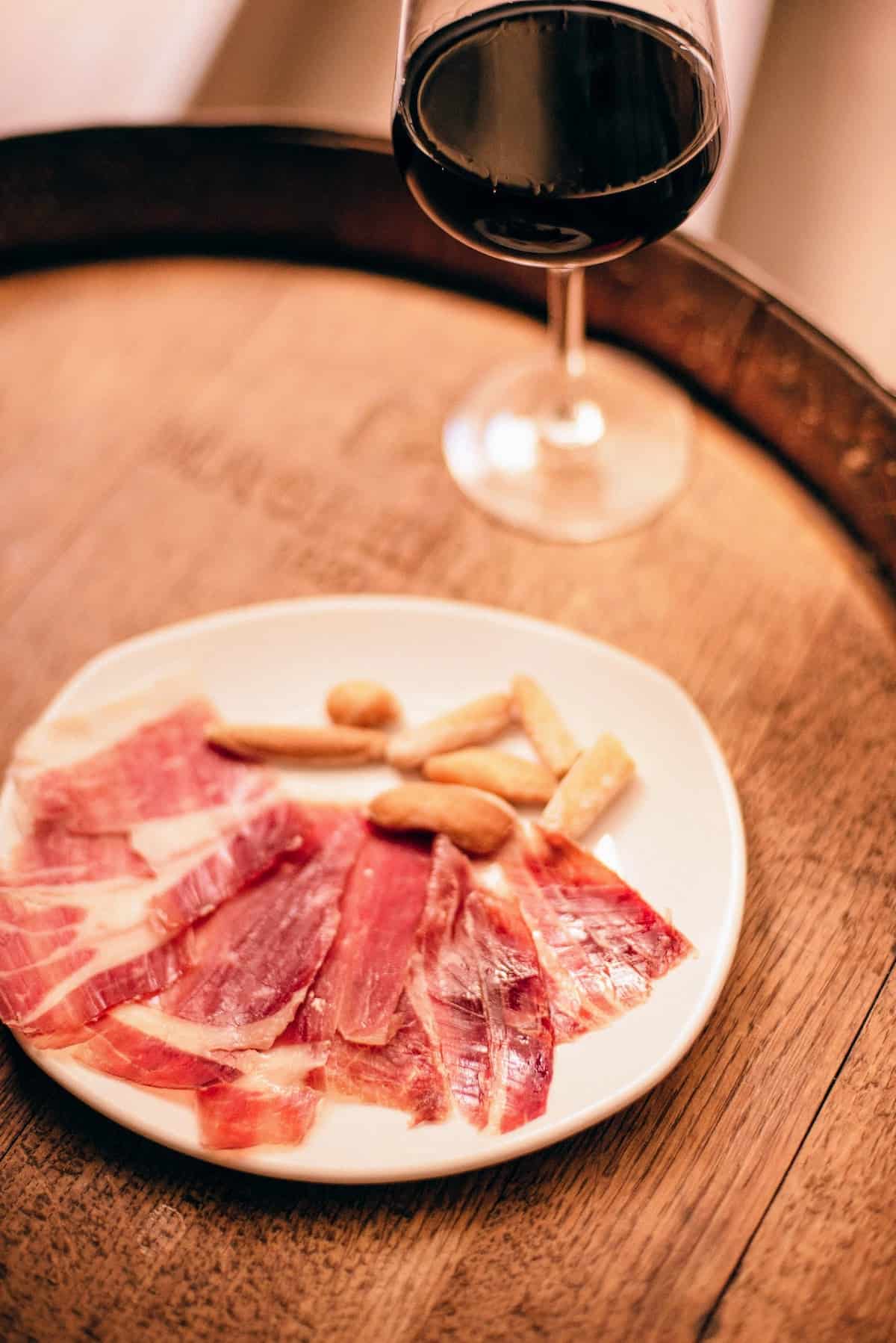 Tip: If you want to expand your culinary horizons even further, the gastronomic paradise of San Sebastián is only a couple of hours away by car!
Once you return from your trip to La Rioja, you can keep enjoying Spanish wine at home. If you bring back a few bottles, try pairing them with traditional Spanish dishes.
You can also cook with Spanish wine, of course. Many classic recipes include wine as an ingredient, like our rabo de toro recipe and carrillada recipe. Just make sure you don't use (or drink) all the wine while you're cooking, so you have some left to enjoy with your meal!
Top Destinations in La Rioja
La Rioja may be a relatively small region, but it has lots of interesting cities and charming villages to visit. Here are a few of our favorite destinations, plus suggestions for what to see and do in each.
Logroño
This is the capital of La Rioja, and its most populated city. Logroño is a great home base for exploring the region—not to mention its cuisine. The old town is full of awesome eateries; try the legendary mushroom pintxo at Bar Soriano and the lechazo at Asador Herventia.If you're into museums and churches, you'll love it here. But if winery visits are more your speed, you'll need to venture out of the city a bit.
Haro
Haro is home to countless wineries, many of them clustered close together. Check out Bodegas Muga, Roda, and López de Heredia to start.
And if you happen to be in La Rioja in June, you might be lucky enough to catch the famous Haro Wine Festival, one of our favorite festivals in Spain. It includes wine-drinking contests and a huge wine battle!
Laguardia
If you like ancient history, you'll feel right at home in Laguardia. This wonderfully preserved medieval walled village sits atop a hill in Rioja Alavesa, which is actually part of the Basque Country.
The underground tunnels beneath the town were originally used for defense, and later for making and storing wine. Today Laguardia is full of beautiful architecture, magnificent views, and of course wineries!
Briones
This gorgeous town is a mandatory stop on any trip to La Rioja. Like Laguardia, Briones is a medieval village on a hill. And since it's located right beside the Ebro river, it offers truly unique views of the area. This is also where you'll find the Vivanco Wine Museum, so if you're interested in learning about wine in addition to drinking it, set aside a full day for Briones.
Tip: Looking for a guided tour of La Rioja's wineries? Check out Taste Rioja.
Where to Stay in La Rioja
La Rioja is a pretty popular destination for wine tourism, so it's full of accommodation options. You'll have plenty of charming hotels, rural country houses, and luxury properties to choose from.
We highly recommend Hotel Teatrisso, a wonderful boutique hotel that's been lovingly restored by owners Laura and José Ángel. Its quirky rooms are all theater- and arts-themed, and the breakfast features a wide selection of delicious homemade treats. It's located in Cuzcurrita del Río Tirón, a small village that's ideal if you want to really relax and disconnect.
If you're looking to splash out on an indulgent stay, check out the Hotel Marqués de Riscal. It doesn't hurt that you'll be located just minutes from both the winery and its award-winning restaurant (you might never want to leave). 
Want something a little bit more chill? Book El Mirador de Eloísa, a beautiful casa rural that combines the traditional charm of La Rioja with modern comforts. The owner, Elena, renovated her great-grandparents' house in the village of Rodezno, transforming it into a humble yet elegant place to kick back after a long day of winery tours.
La Rioja FAQ

s
Where is the Rioja wine region?
The Rioja wine region is located in north-central Spain, on the banks of the Ebro river. It's bordered by the regions of Castile and León, Basque Country, Navarre, and Aragon.
How many wineries are in La Rioja?
La Rioja currently has 567 wineries, according to the official DOCa website—although some other sources put this figure at well over 600. Either way, there's no question that La Rioja produces quite a bit of wine!
What kind of wine is Rioja?
Rioja wine is simply wine that's produced in the Rioja region, according to a strict set of standards and regulations enforced by the Consejo Regulador.
Is Rioja only from Spain?
Yes—Rioja wines are, by definition, produced in the Rioja region of Spain. This is what qualifies them as Rioja.
What grapes are used in Rioja wine?
Rioja wine is usually made from tempranillo grapes, but it may also include garnacha, graciano, maturana, mazuela, and other varieties. The region is most famous for its red wines, but white Rioja can also be made from viura, malvasia, white garnacha, and white tempranillo grapes.
Update Notice: This post was originally published on April 11, 2017 and was republished with new text and photos on September 28, 2021.
Love Spanish food? Sign up for my free weekly newsletter and receive a new Spanish recipe once a week! Join today and get my FREE Spanish ingredient essentials guide!