I hope you had or are having a wonderful summer. I have been in back-to-work mode for a while, and thought that chicken with lemon and capers in a port sauce was a recipe worth of being the first one of the new "school year ".
If you have been a regular follower or subscriber of Mama Ía blog for a while, you know that in the summer, the blog takes a short hiatus. This is the time when, more than blogging, I am "researching". Okay, okay, that's a euphemistic way to say that I am in Spain, enjoying its food, its sights, and most importantly, my family. 
In the early days of the blog, I stressed out about the fact that all the activities, family encounters and get-togethers, events, parties, festivals and trips that filled up my days while in Spain were not leaving me any time to blog. Some summers I tried. Painstakingly, during the hot hours of the day, while everybody at the house was resting after a morning at the beach and a copious meal, I managed to find a quiet place to write and, after a few days of this, post a recipe.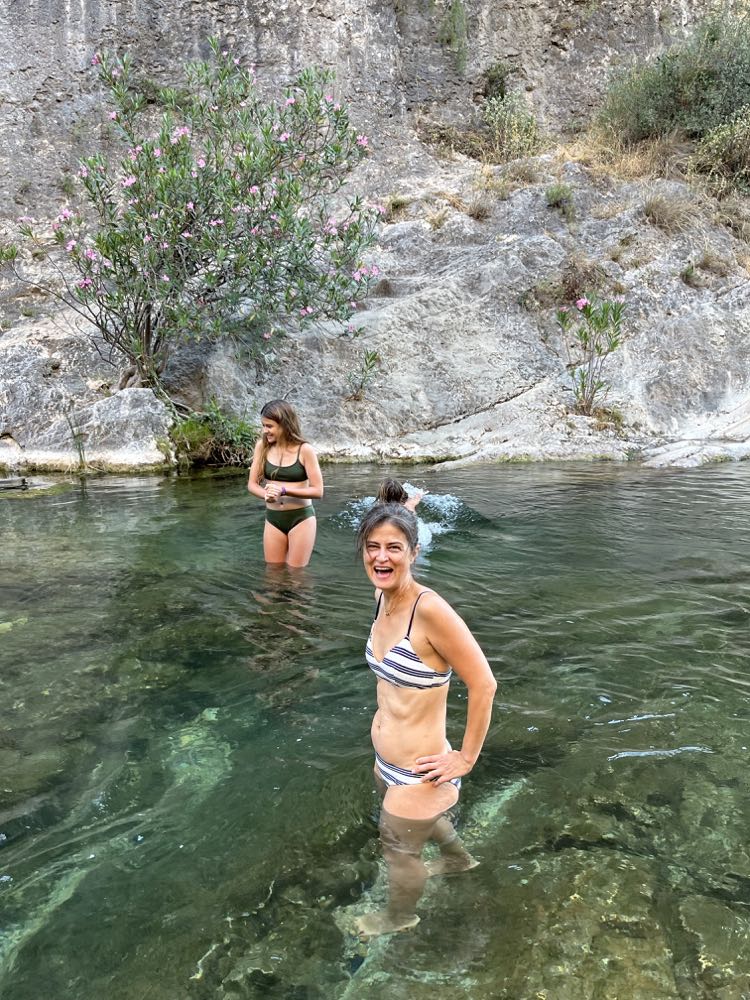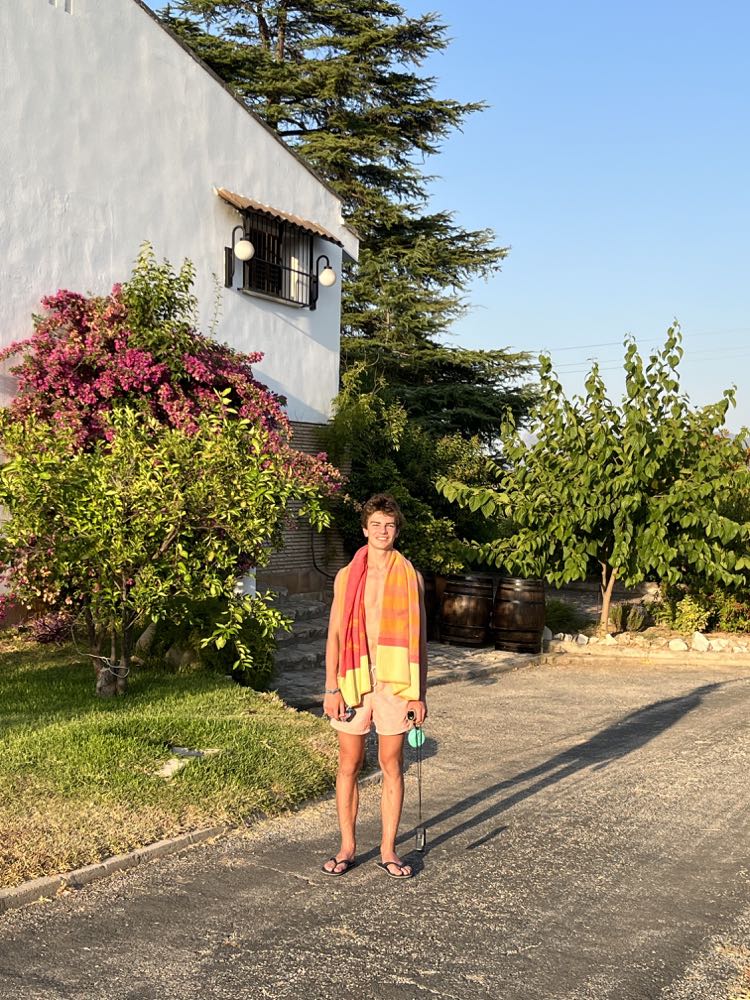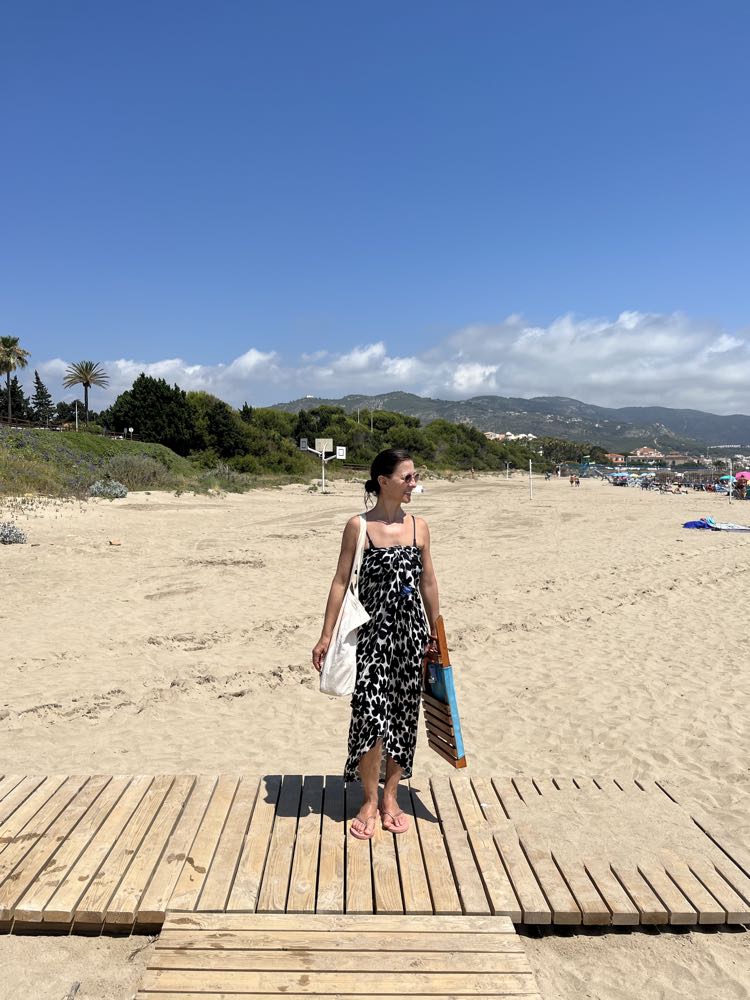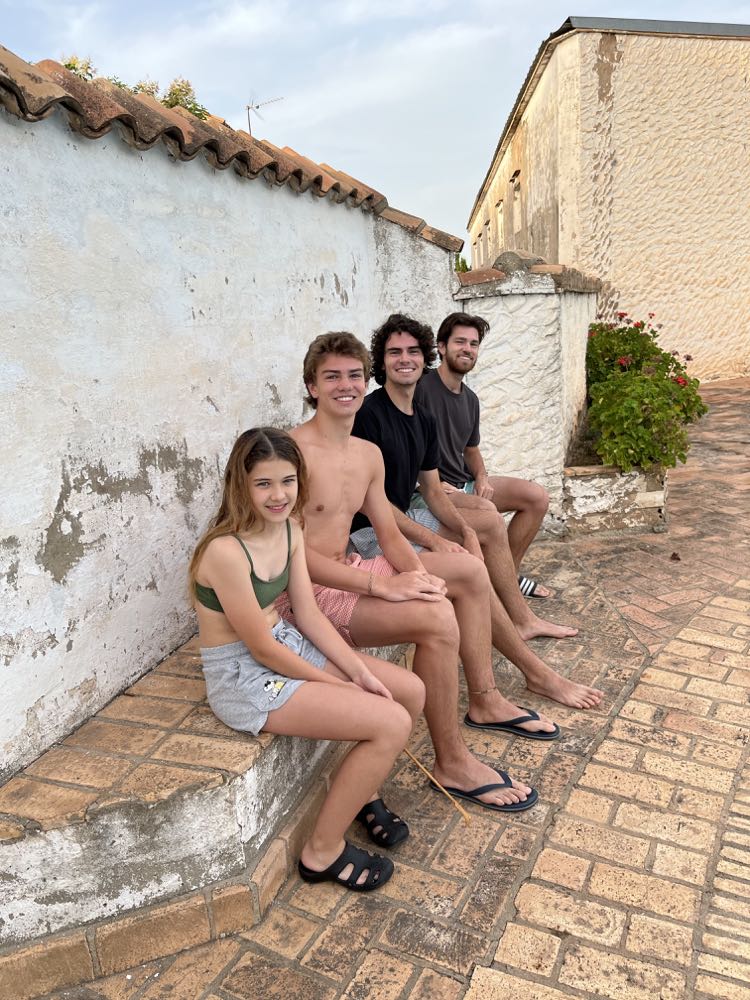 I don't stress about blogging in the summer anymore. I try to live in the moment, absorb everything that I am experiencing, take notes and thousands of photos, and come back to the United States refreshed and with a bag full of ideas and recipes for new posts.
So where to start? What recipe to share with you that will inspire you to make it right away? What stories or cultural events should I share with you for the first blog post of the season?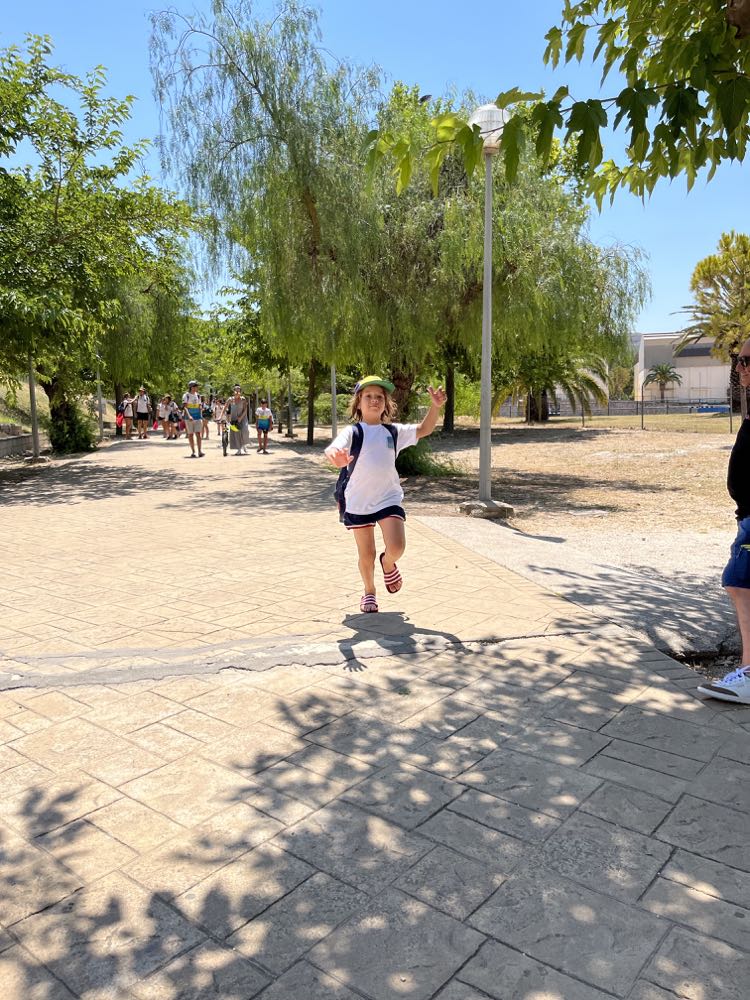 Ready and… So happy!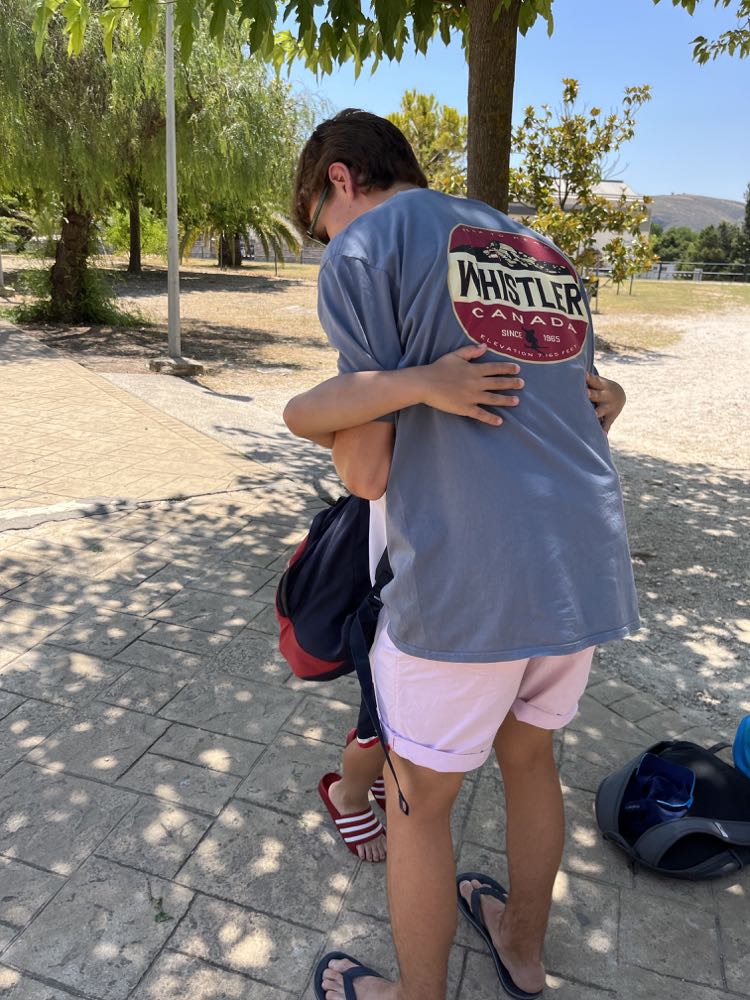 Cousins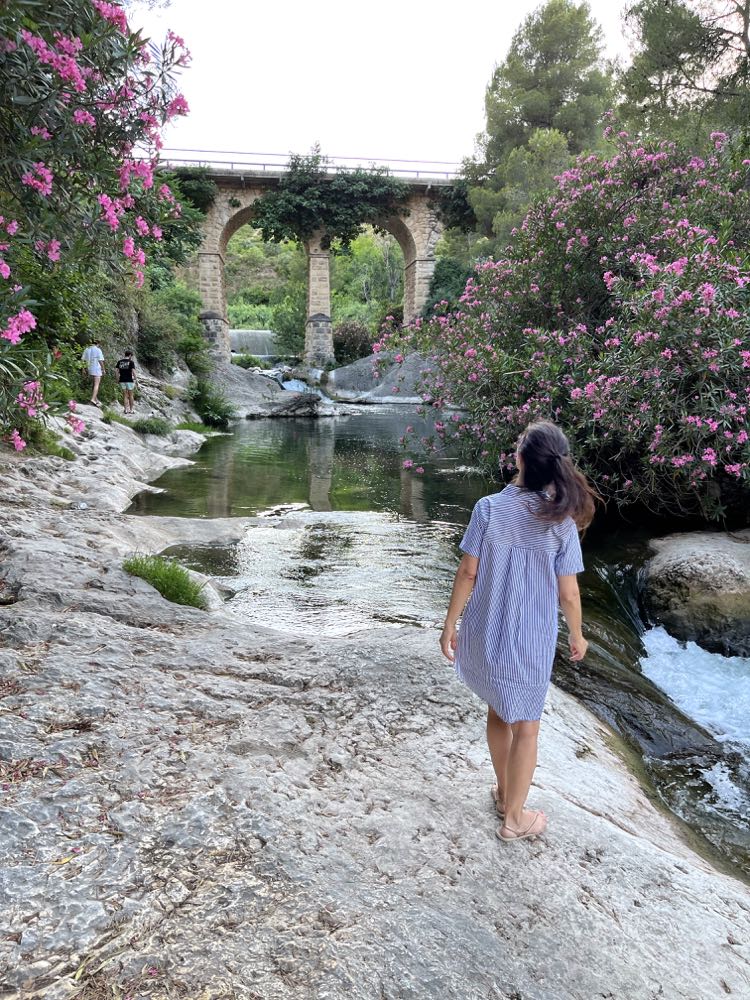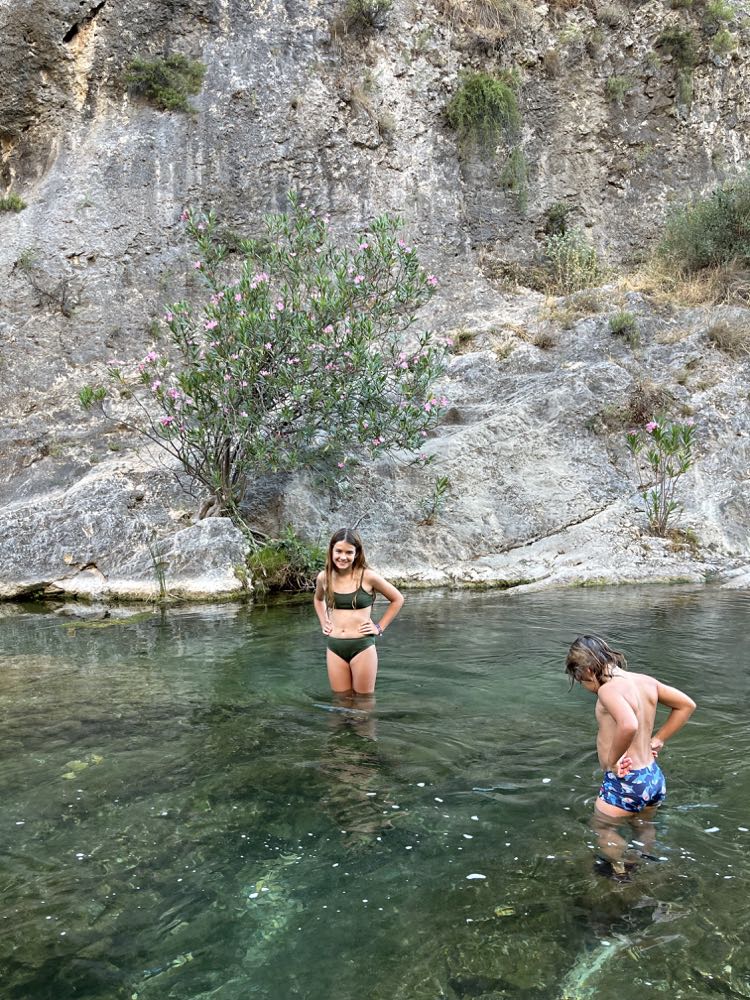 I chose this recipe, chicken with lemon and capers in a port sauce because, let's face it, who doesn't make chicken at least once a week? And if you live in the United States, particularly in the Midwest, the kids are back to school, and you have to come up with fast and easy to make recipes for dinner, because (and I know from experience) the evenings are filled with sports and other after school activities.
I guarantee you will make chicken with lemon and capers in a port sauce very often, not only because it is absolutely delicious, but because it is easy to make – like the majority of recipes on Mama Ía blog. As for a vegetable side, some simply boiled baby potatoes are perfect to soak up the savory sauce.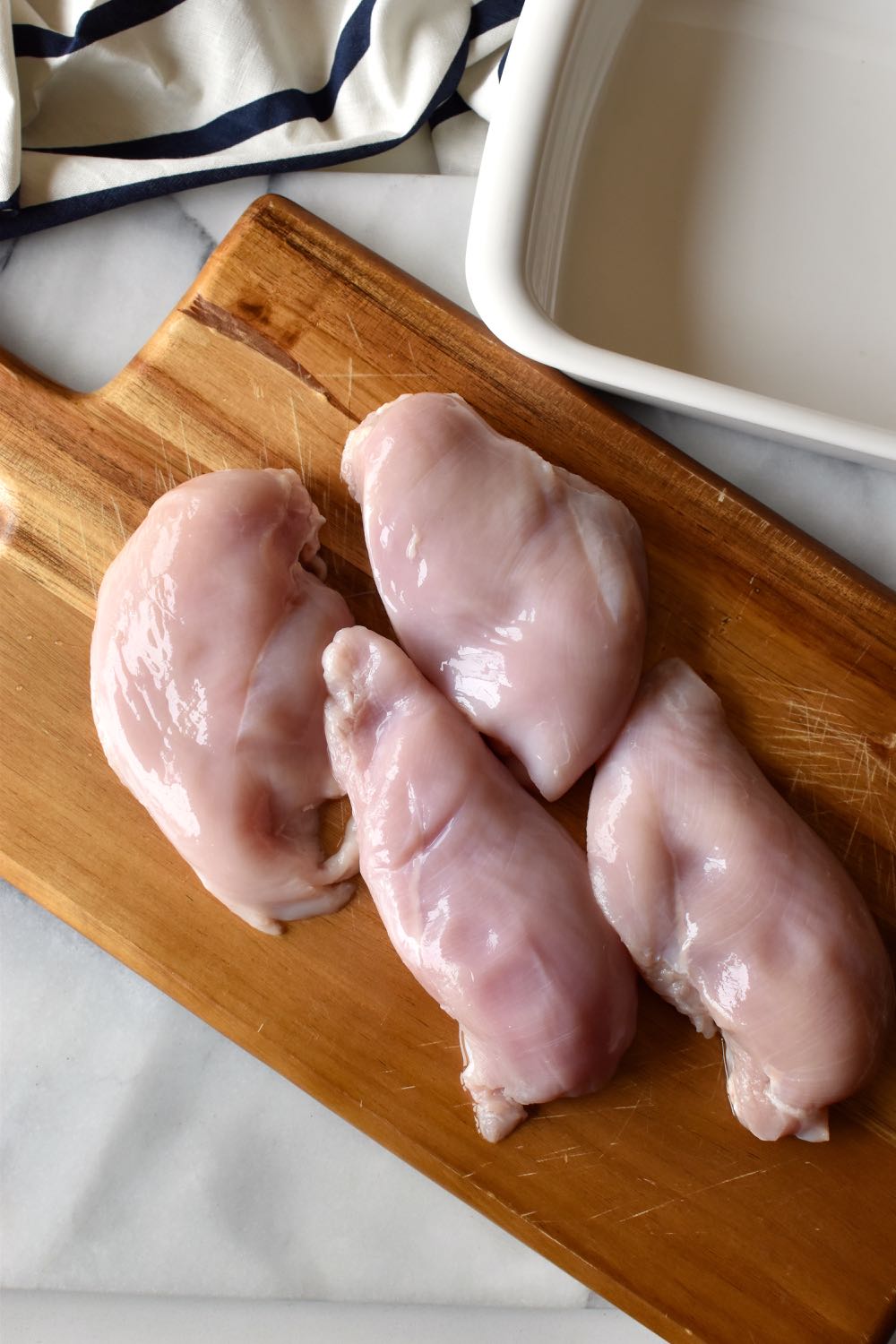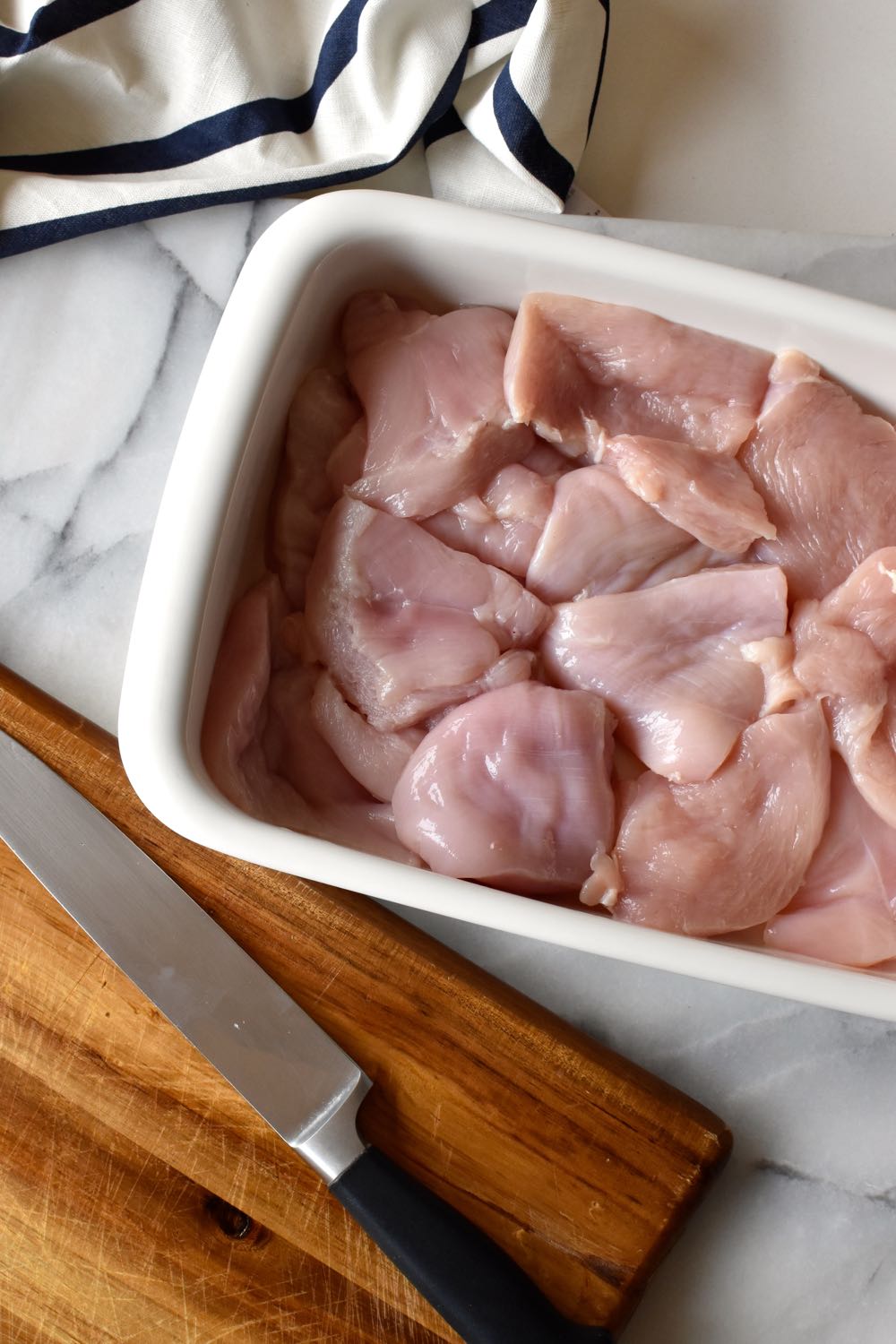 For a story to accompany it, let's go with something that still feels like summer, because… it is still summer! Some photos of our stay at the beach in Alcocebre, as well as some from my hometown of Onteniente and the summer house where I grew up, and that you are probably familiar with, El Taroncheral (click here to know a bit more about my hometown and the summer house of my childhood).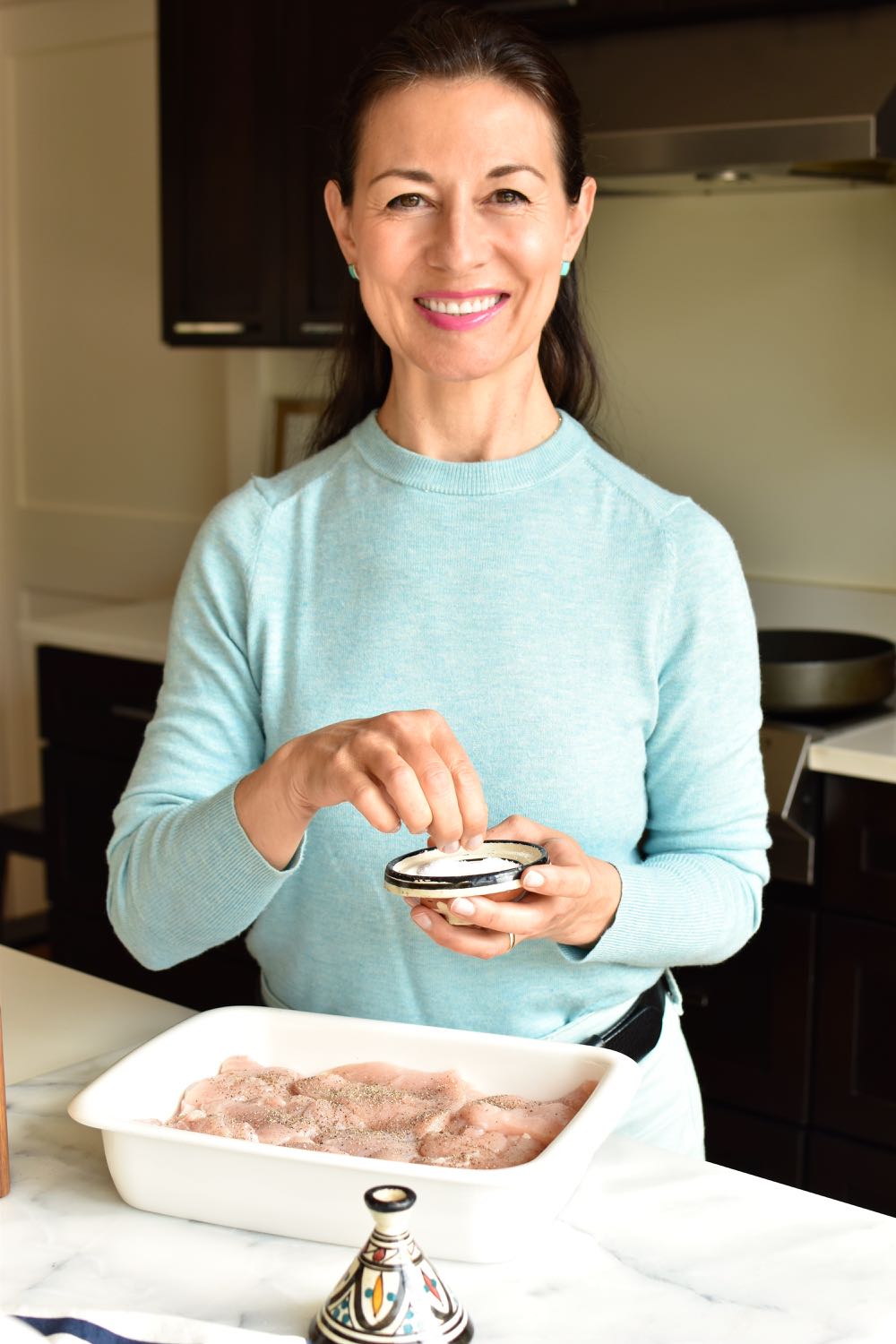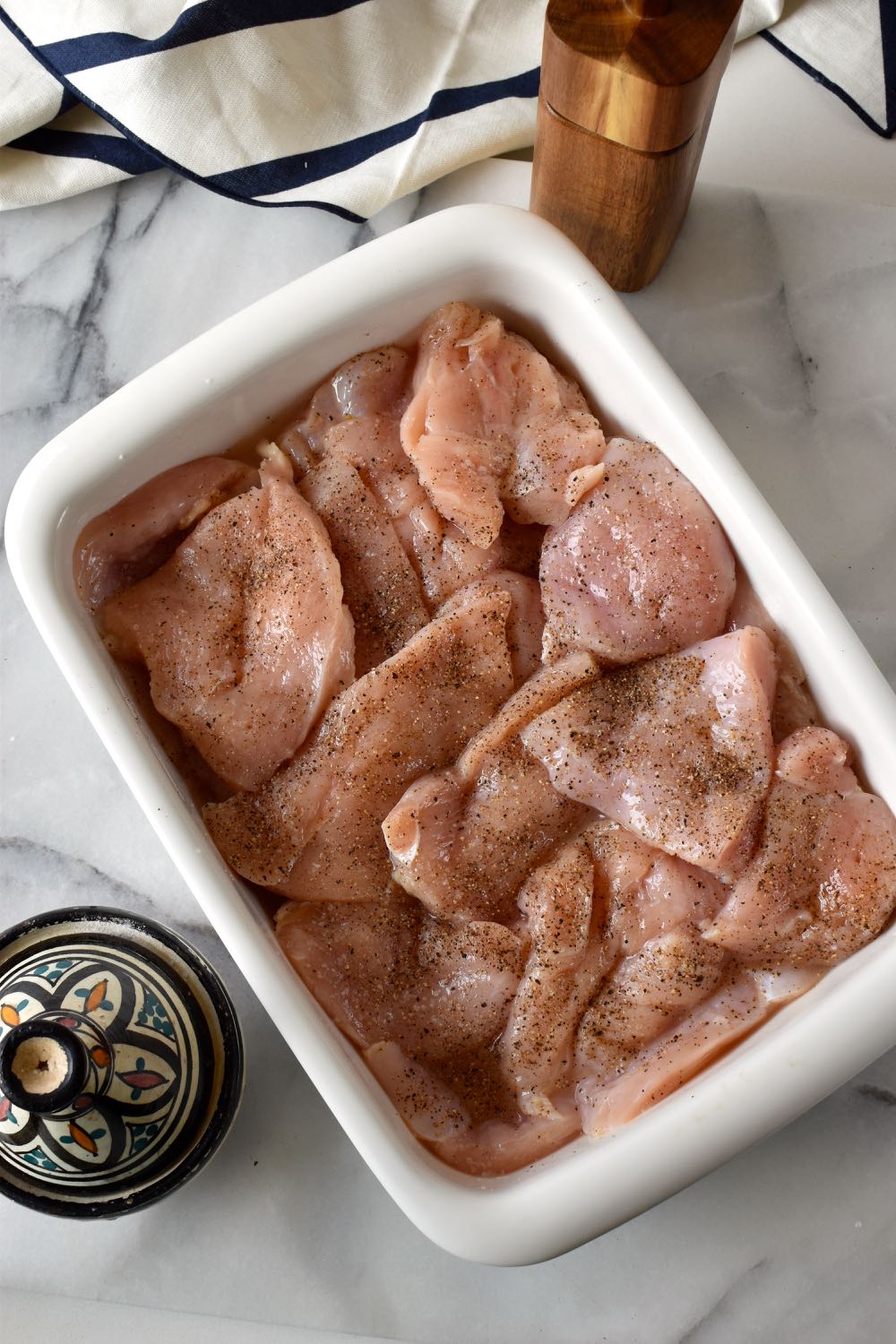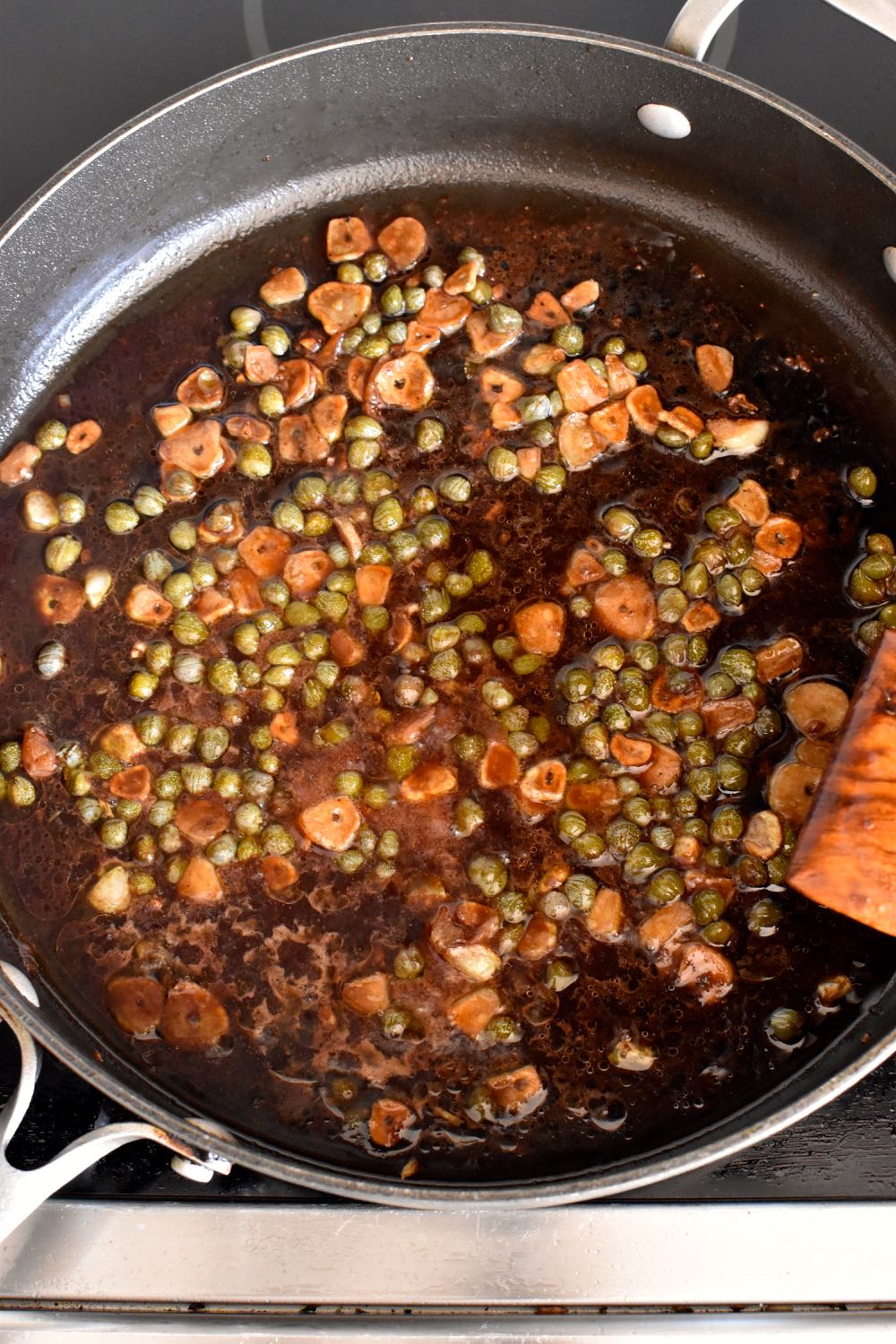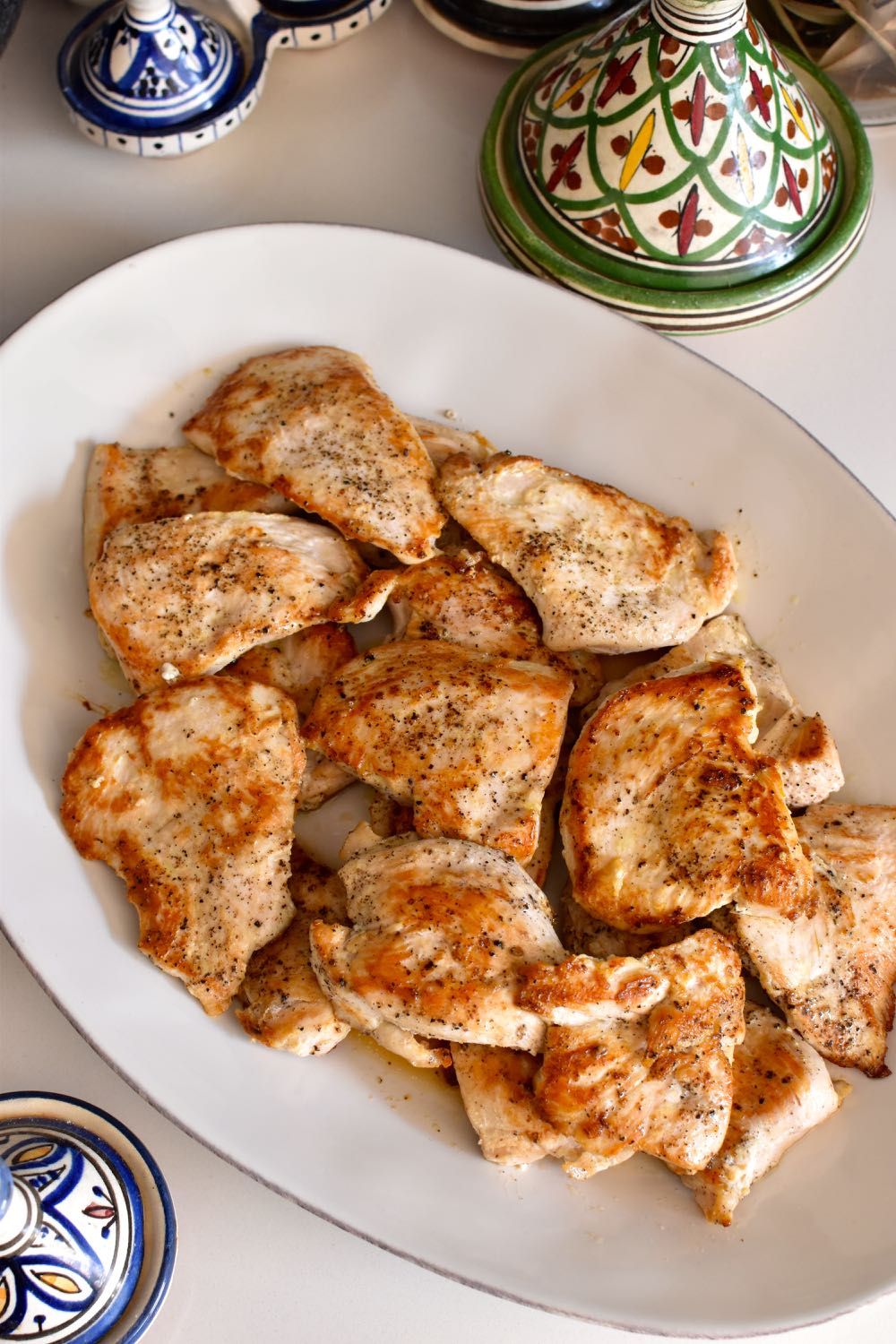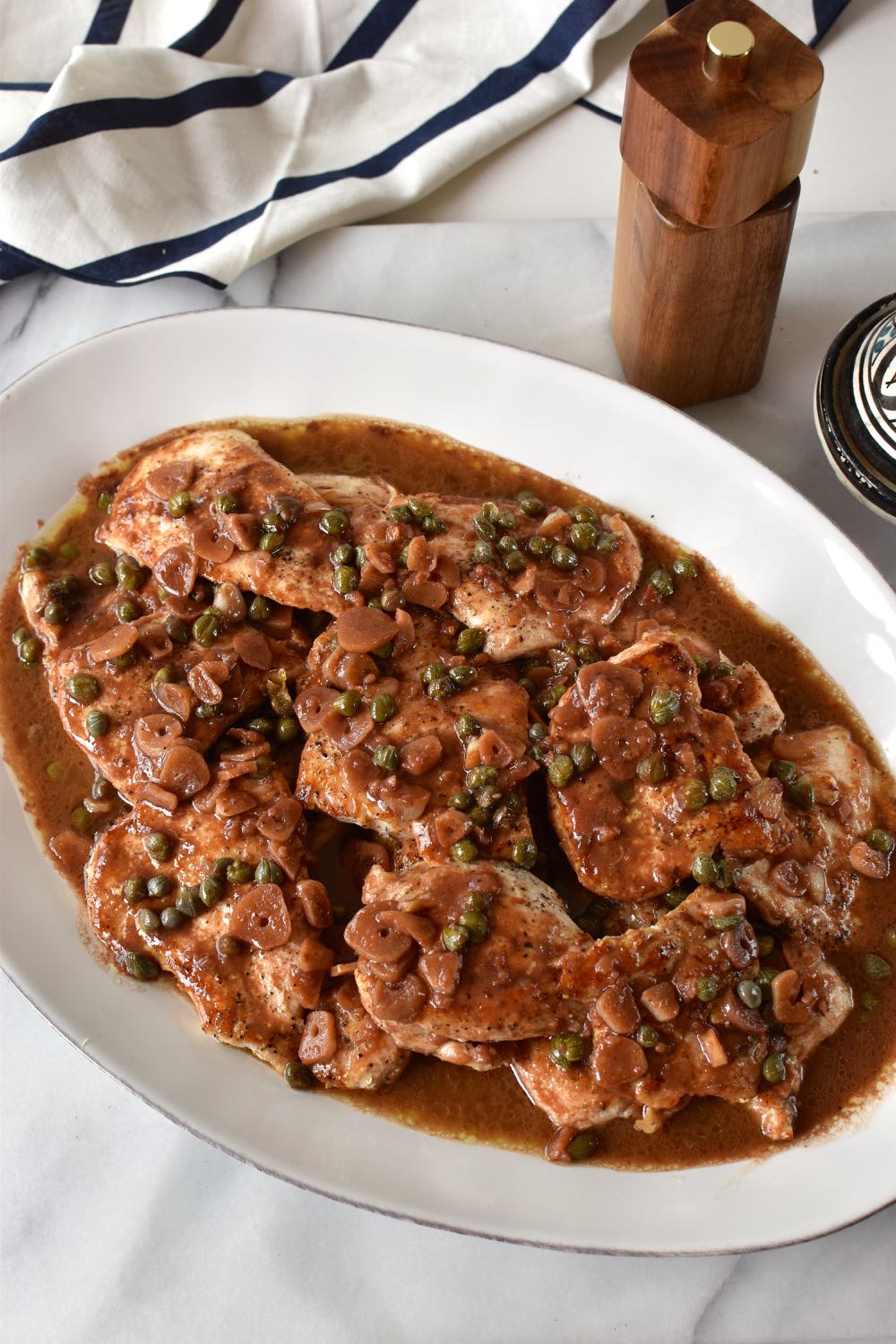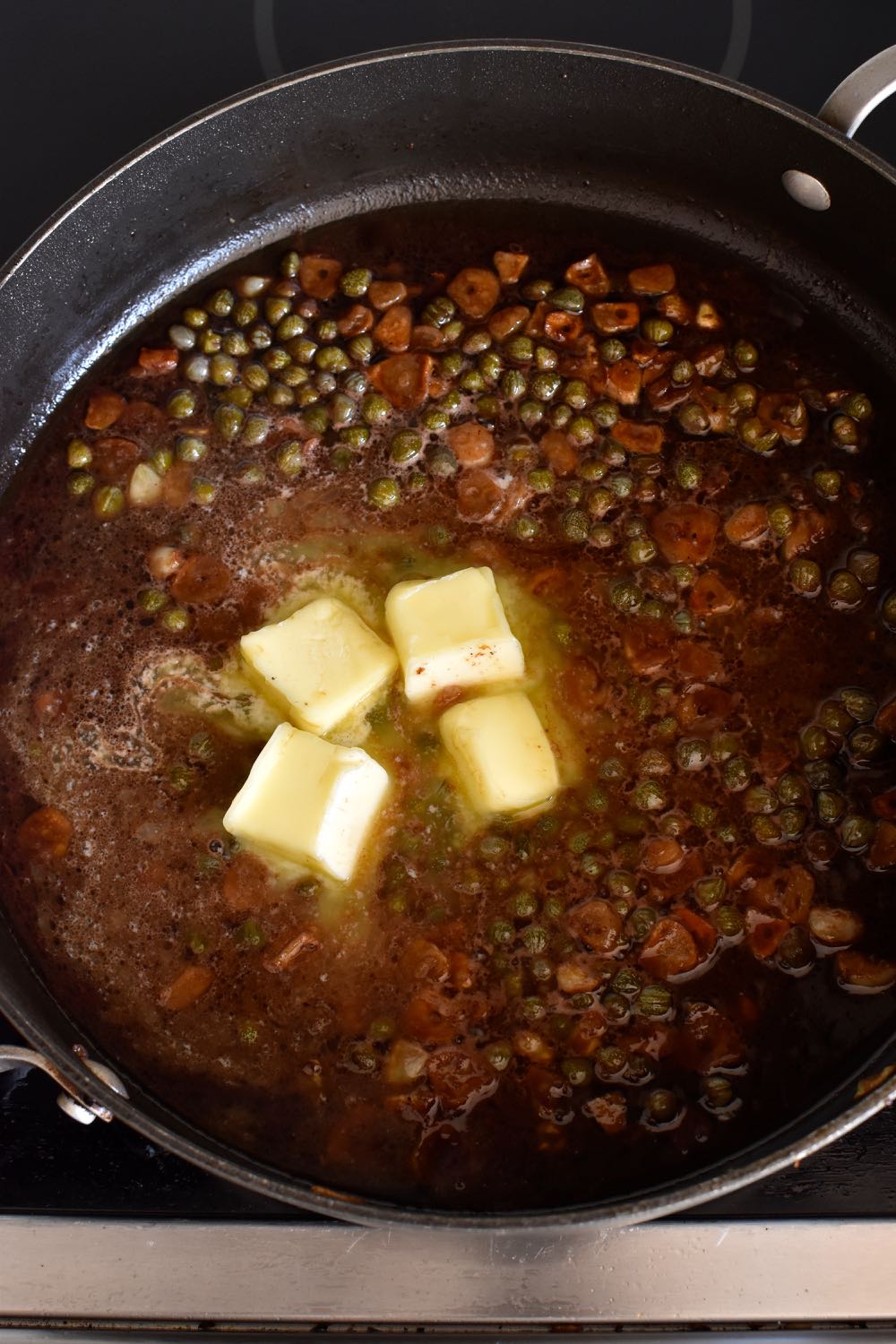 What makes summers super special as of late, is the fact that, not only do I get to visit with my mom and sisters, nieces, nephews, extended family and friends, now I get to visit with my own children as well! As my older sons grew up and moved out of the house, I can count with one hand the number of times we reunite as a family of five every year. What is very amusing is that we all fly in from California, from Miami and from Indiana, and meet up at the Madrid airport before we catch our last flight, together, into Valencia. I think that is pretty wild. When we arrive in Valencia, to our relatives' eyes, seeing our family of five looks as normal as always, even if up until a few hours before, we had't seen each other for months.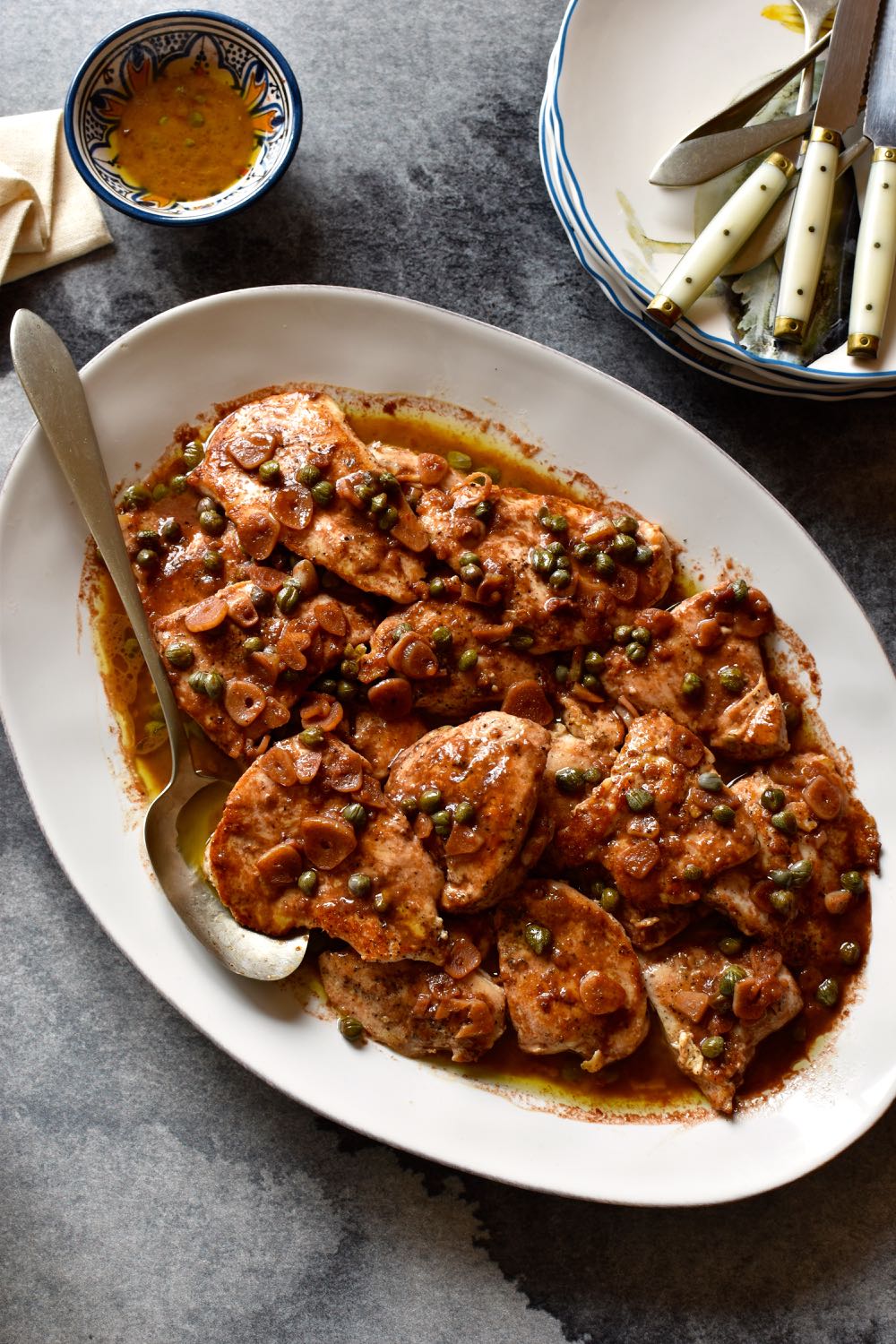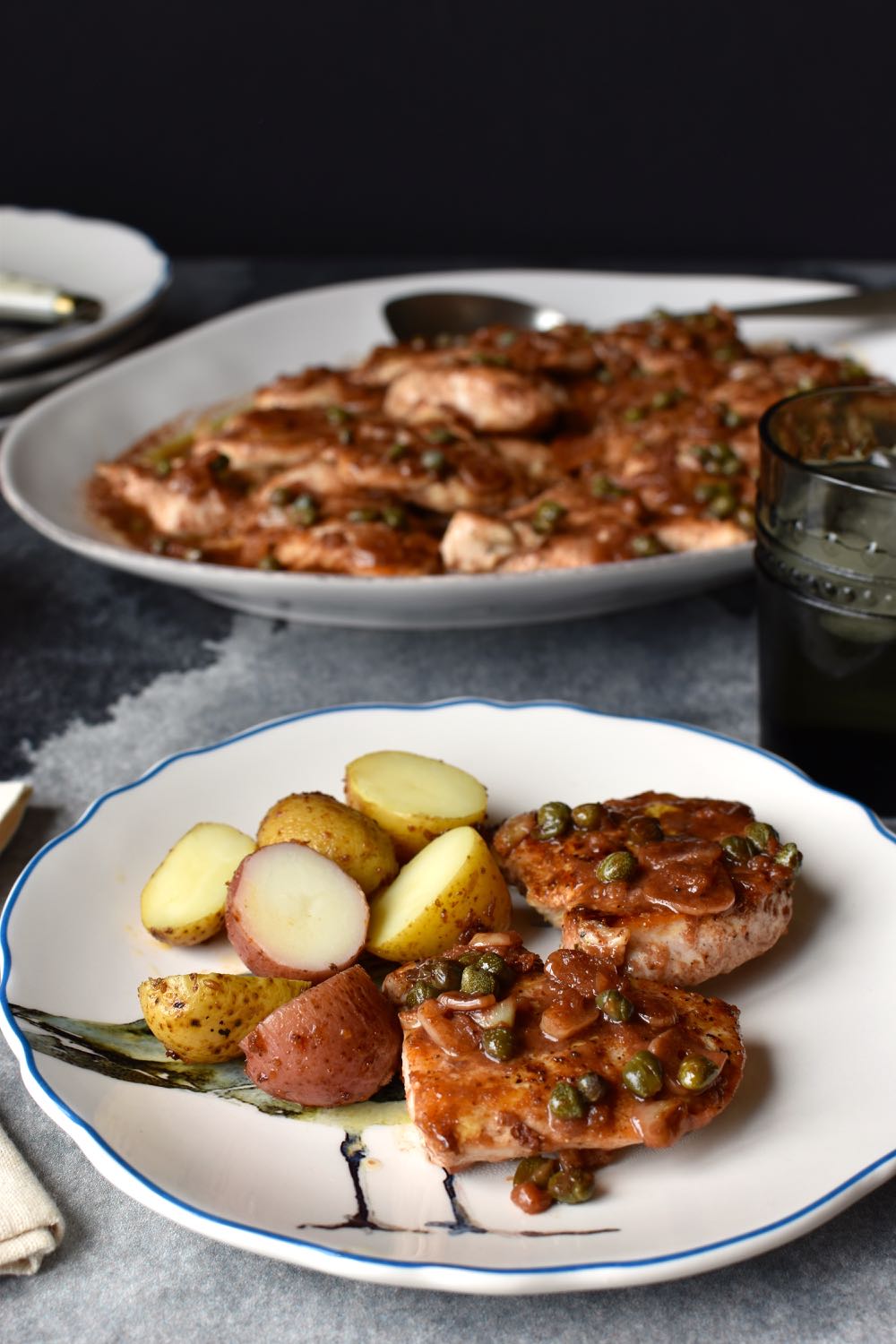 I've come to savor the two weeks we spend together in our happy place, trying to fit in visits with friends and extended family, day trips here and there, hikes and walks and bike rides, and enjoying the social and night life my corner of Spain has to offer.
So I leave you with that, and with the promise of telling you in more detail about some of the activities and trips we did this summer, in future posts. There will be nature, and there will be history, and there will be customs and festivals. Stay tuned! For now, I hope you savor the last few days of your summer if you're still enjoying it, or take the new school season with enthusiasm and lots of energy if your summer holidays are a distant memory. I hope this simple recipe for chicken with lemon and capers in a port sauce makes your evening suppers a little bit easier.
CHICKEN WITH LEMON AND CAPERS IN A PORT SAUCE
Pollo con limón y alcaparras en salsa de oporto
Servings: 6
Author: Natacha Sanz Caballero, Mama Ía blog
4

skinless

boneless chicken breasts

8

Tbs

extra virgin olive oil

1

head garlic

cloves peeled and thinly sliced

1

cup

port

2

Tbs

capers

8

Tbs

unsalted butter

Juice of 1 lemon

1

Tbs

flour

1

sprig parsley

optional
Cut the chicken breasts in half and slice them lengthwise. Season the cutlets with salt and pepper.

In a skillet, heat 4 Tbs olive oil over medium-high heat. Sear the cutlets, working in batches if necessary to not to overcrowd the pan, about 2 minutes per side and cooked through. Transfer the chicken pieces to a platter.

Add 4 Tbs olive oil to the skillet and cook garlic, stirring, until soft but not brown, about 2 minutes. Add the capers and port, scraping the bottom of the pan, and cook on medium heat for about 3 minutes. Add the butter and lemon juice and swirl the skillet until the butter melts and forms a sauce with the rest of the ingredients. Sprinkle with the flour and stir until sauce thickens slightly, about 1 minute.

Pour the sauce over the chicken in the platter. Sprinkle with some minced parsley if desired.
You can serve it with simply boiled baby potatoes, perfect to soak up the sauce