This delicious Spanish almond cake is one of the most popular desserts in all of Spain. My traditional tarta de Santiago recipe combines ground almonds, sugar, and eggs for a quick, moist, (and gluten free!) cake that's easy to make at home in less than one hour!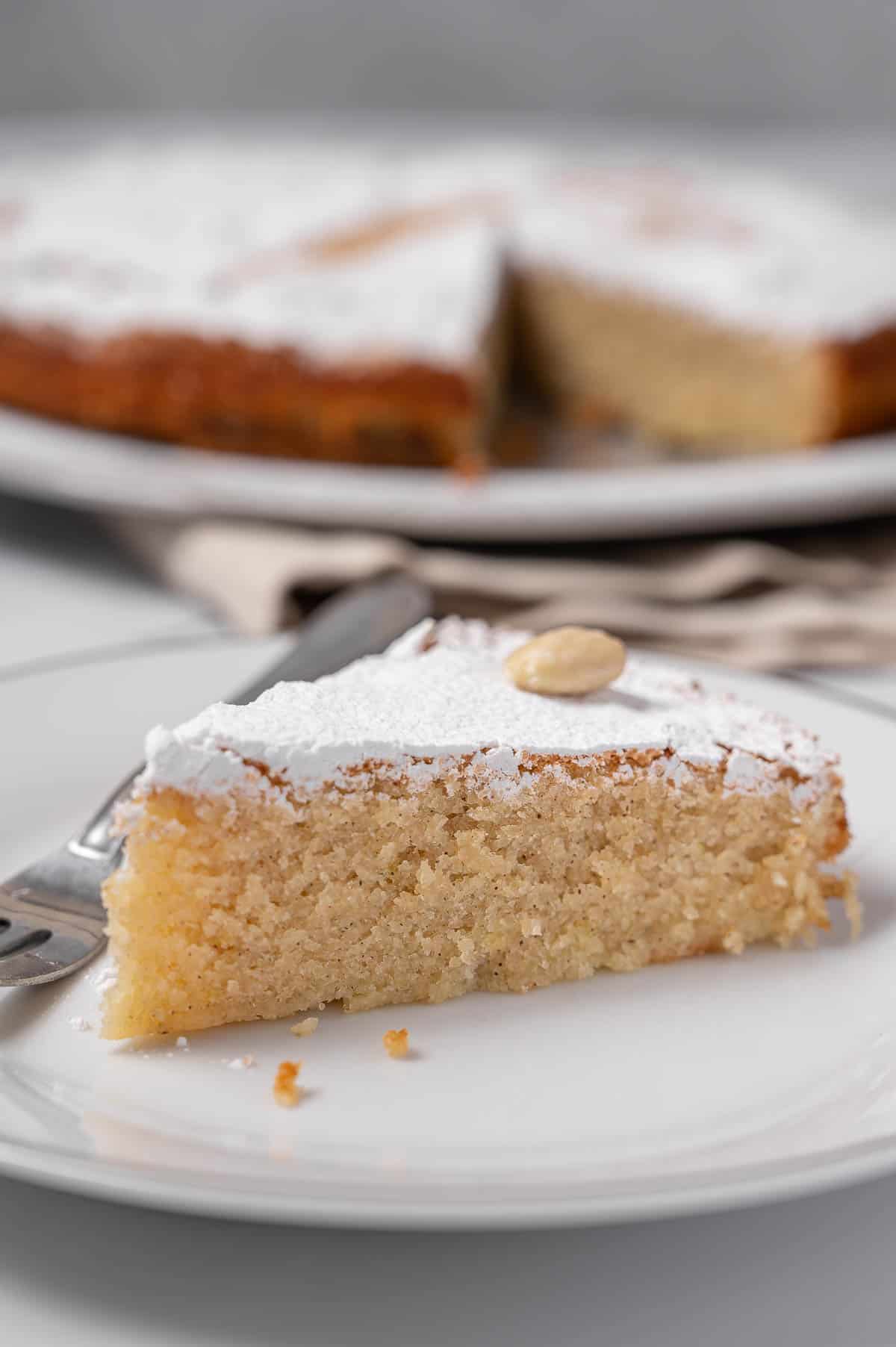 One of the first Spanish desserts I fell head over heels for was the tarta de Santiago, a simple Spanish almond cake that hails from Galicia, but is found on nearly any dessert menu in Spain.
The slice I was served looked as humble as could be, and I began to doubt my choice. But with the first bite of moist cake I felt like I'd eaten a handful of almonds. I was hooked.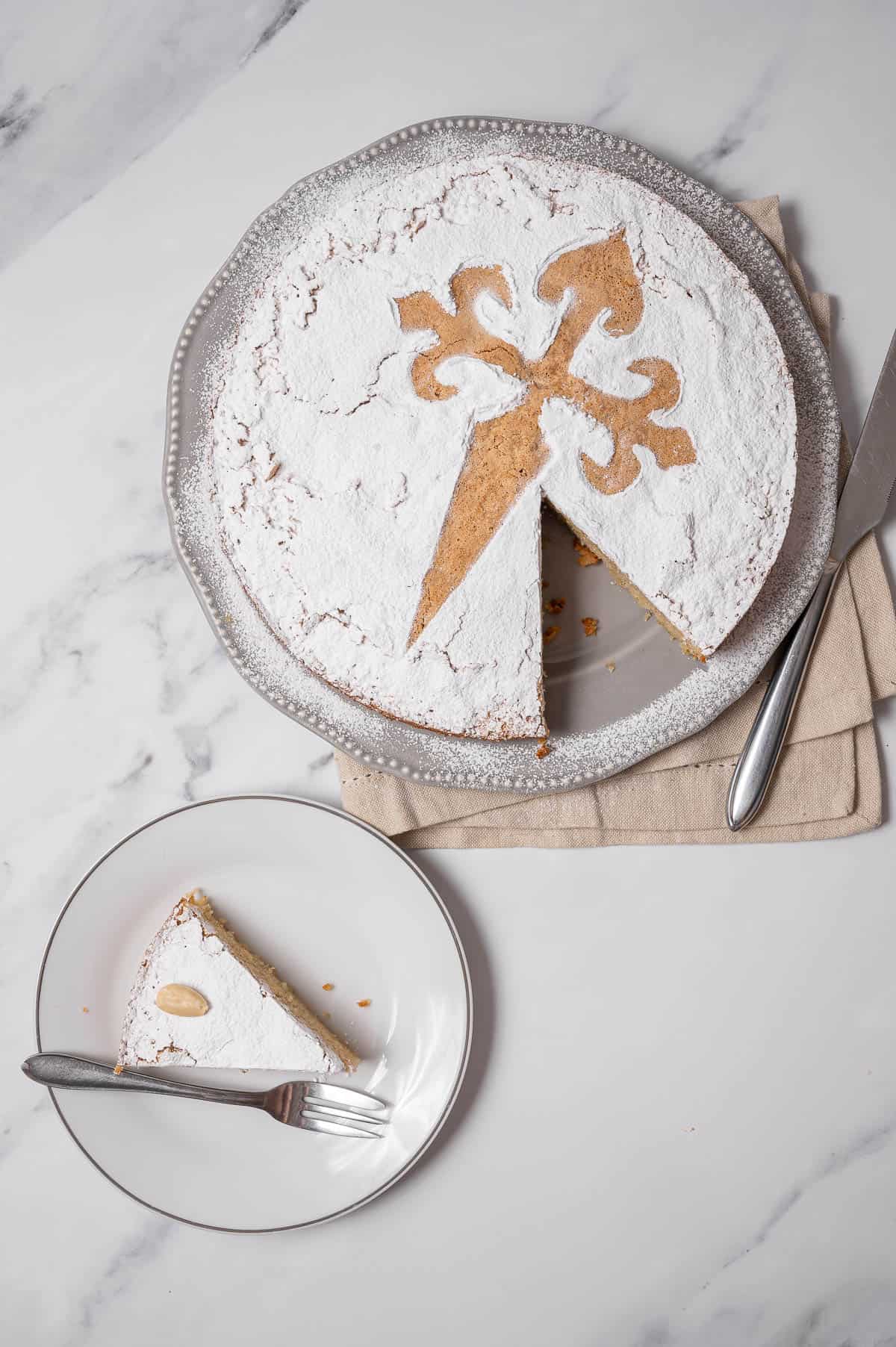 The almond cakes I grew up eating were flavored with potent almond extract– delicious I'll admit, but nothing like the almond sweets here in Spain, where the star of the show is always the raw almond itself.
When I finally decided to try a tarta de Santiago recipe at home, I was hoping to get that perfect almond taste and dense (yet somehow light!) texture. I tried four different Spanish almond cake recipes — one of them even came from cloistered convent nuns!
I kept searching until I finally found what seemed to be the perfect recipe in one of my mother-in-law's old cookbooks. The old scribbled-down recipe for tarta de Santiago was simple, and sounded like what I had fallen in love with.
Today I want to share the perfect Spanish almond cake recipe with you — my favorite version of tarta de Santiago.
Key Ingredients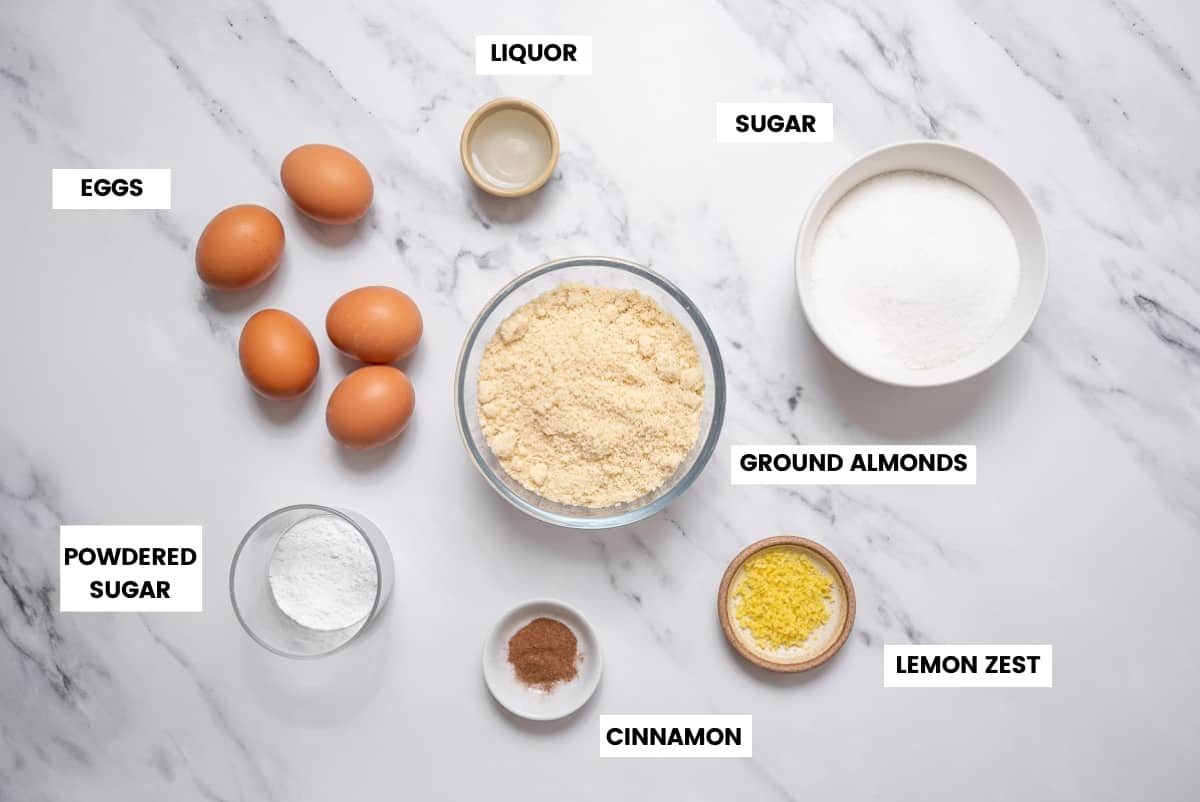 Key Ingredients: Almonds, eggs, sugar, cinnamon, lemon zest, liquor, powdered sugar
Ingredient Notes & Substitutions
The beauty of this cake is its simplicity — you only need seven ingredients:
Almonds: I love using Spanish Marcona almonds, but any will do. The traditional Tarta de Santiago recipe uses raw (peeled) almonds, as the skins can give a bitter taste. You can optionally toast your almonds for a deeper flavor. And if you must substitute another nut, hazelnuts work beautifully.
Eggs: 5 of the best eggs you can buy!
Sugar: Normal white refined sugar is what we use here in Spain. But feel free to experiment here. Let me know how it goes.
Lemon Zest: I use the zest from half a lemon for the perfect lemon flavor. Feel free to add more (or omit). You can substitute orange zest.
Cinnamon: I love the addition of cinnamon to this cake, though many people omit.
Liquor: The liquor adds moisture and a bit of flavor (if using a flavored liquor). But you can substitute vanilla, lemon, or almond extract.
Powdered Sugar: A must for the decoration of the cake! If you can, download a stencil of the Saint James Cross to decorate your Spanish almond cake the traditional way.
Spanish Almond Cake: Step by Step
This traditional tarta de Santiago is super simple. You really can't go wrong! Follow along for a full tutorial, or keep scrolling down for the printable recipe card with exact measurements.
Steps 1-4: Crack the eggs into a large bowl and add the sugar. Beat until the mixture lightens in color then add the lemon zest.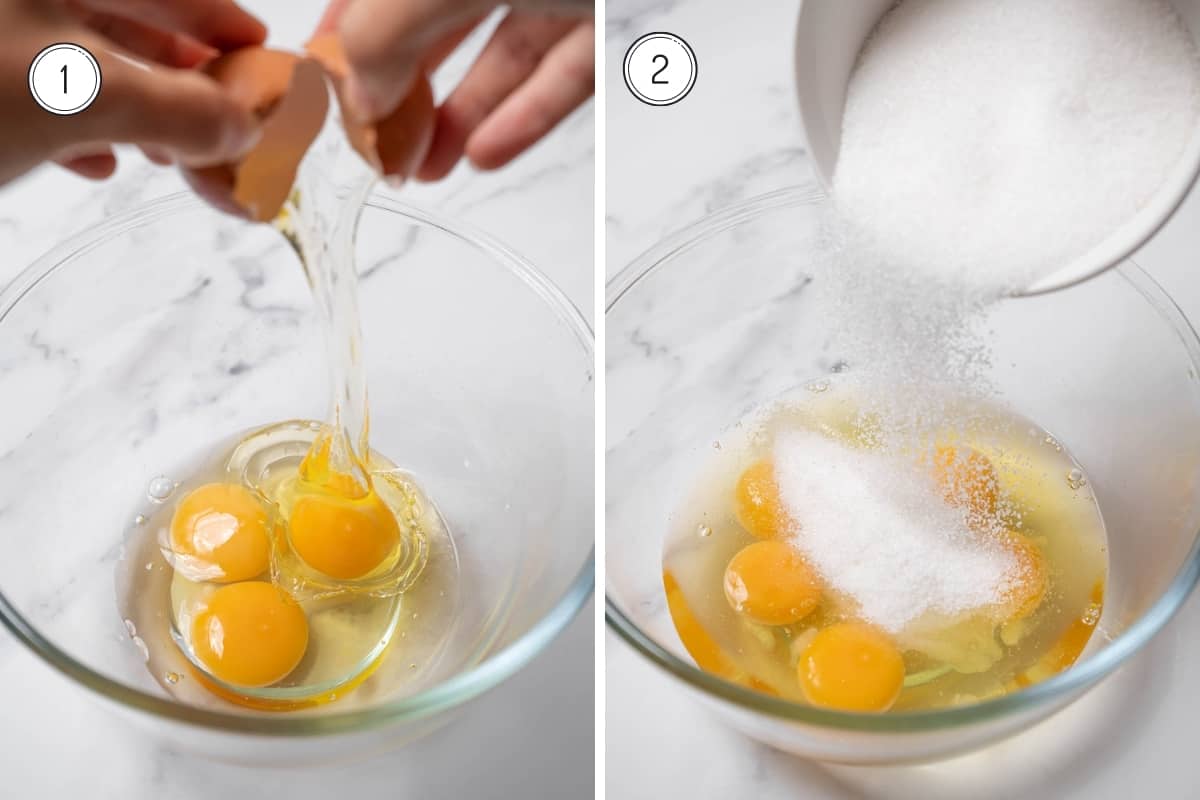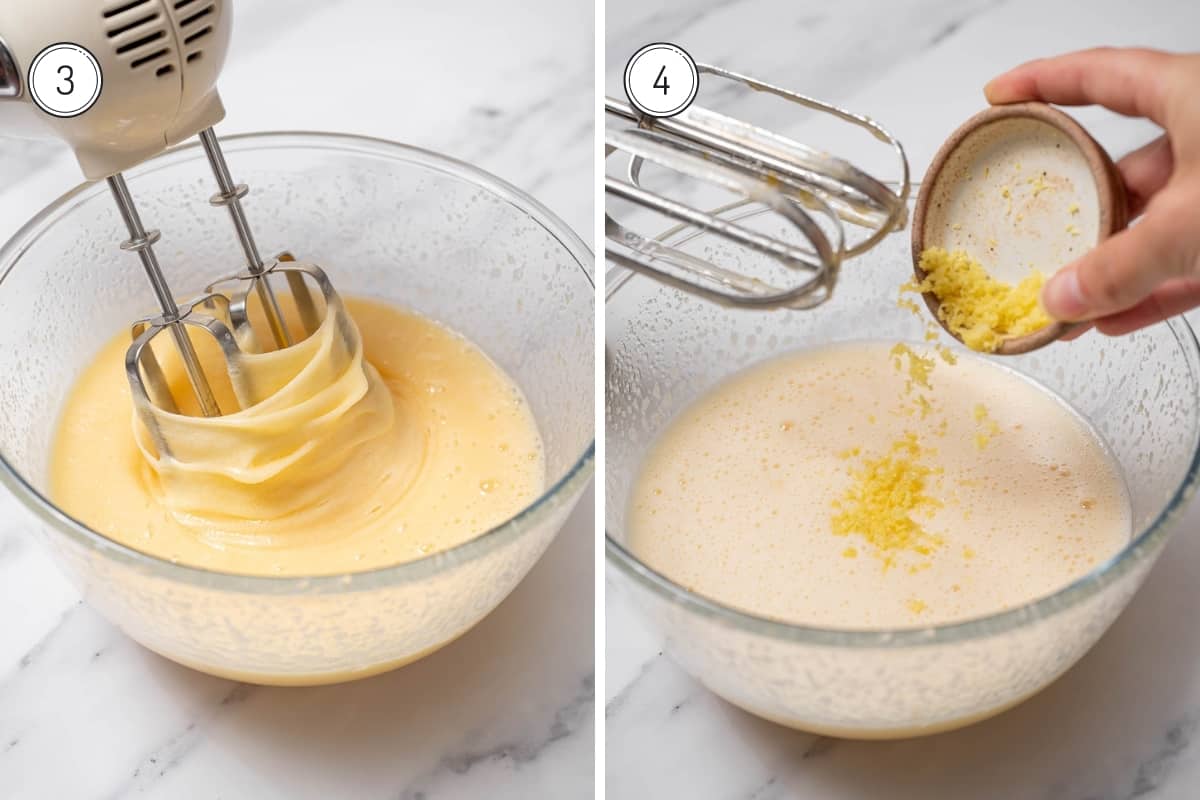 Steps 5-8: Add the liquor and the cinnamon and mix well. Then fold in the ground almonds.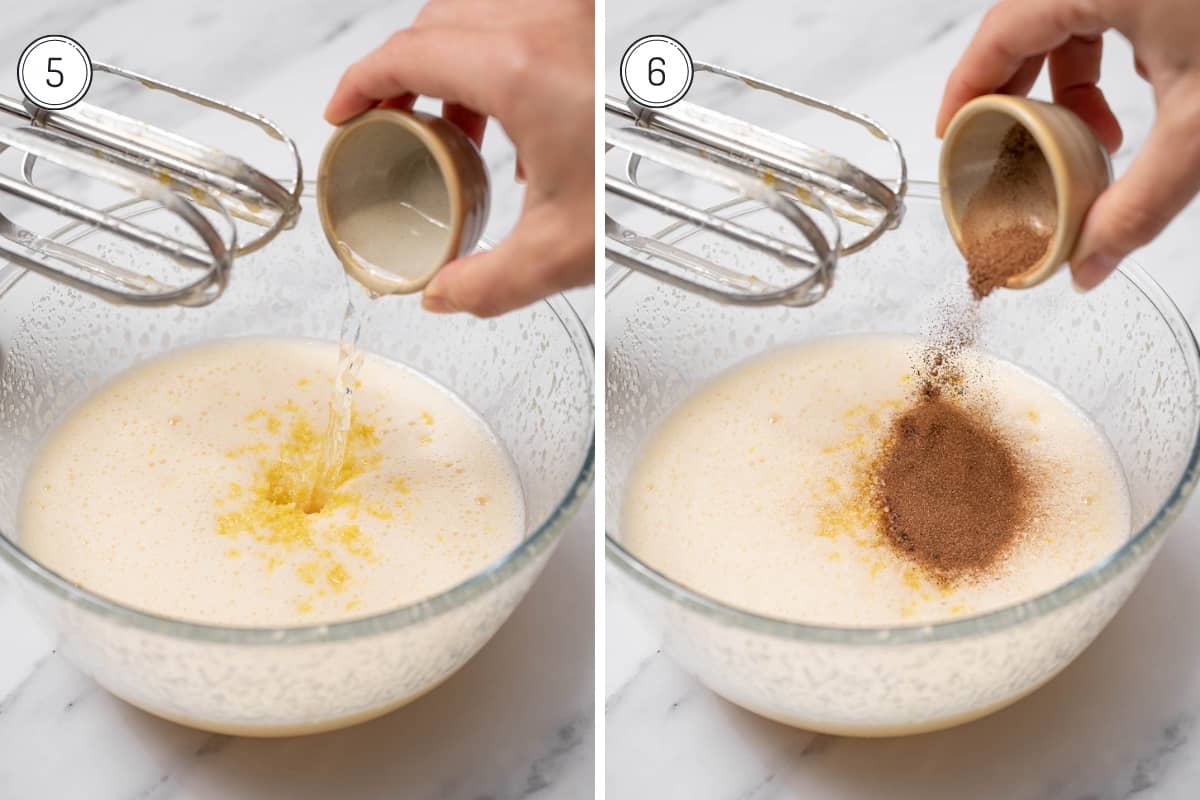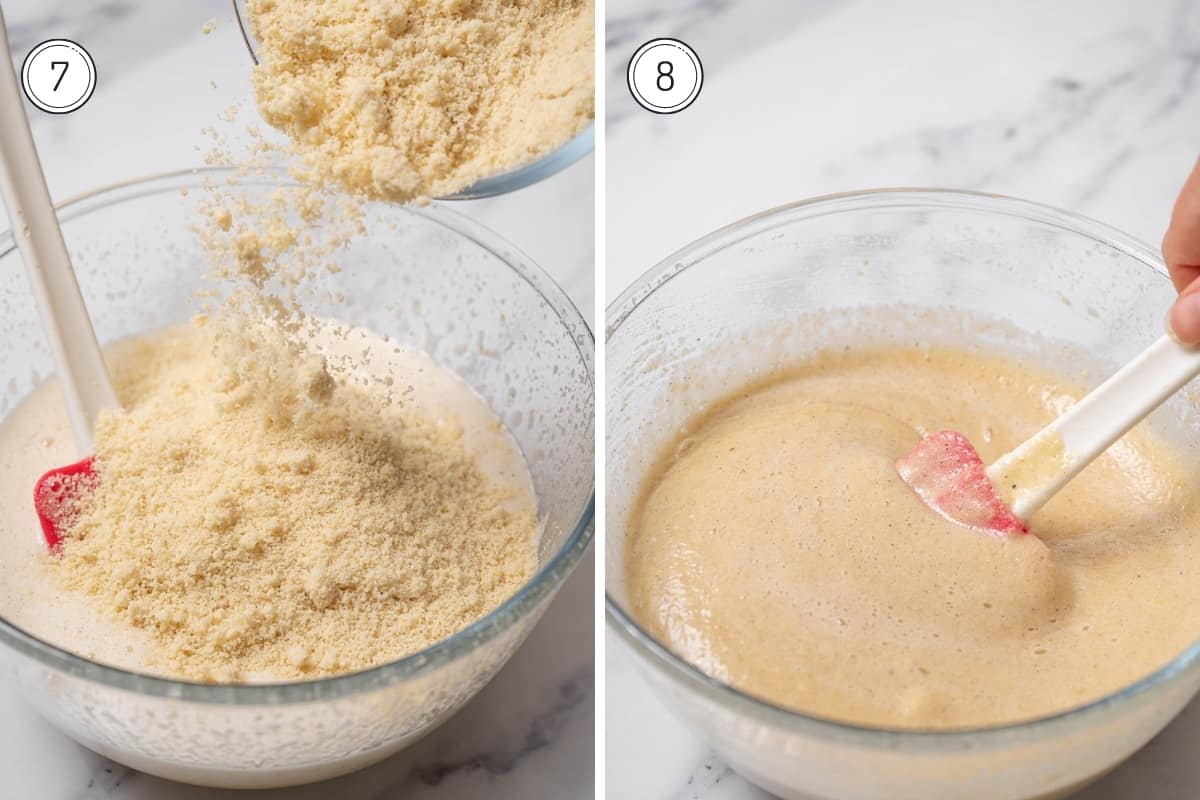 Steps 9-10: Grease a mold and add the batter. Bake at 350°F (175°C) for 30-40 minutes (until light brown and a toothpick comes out clean).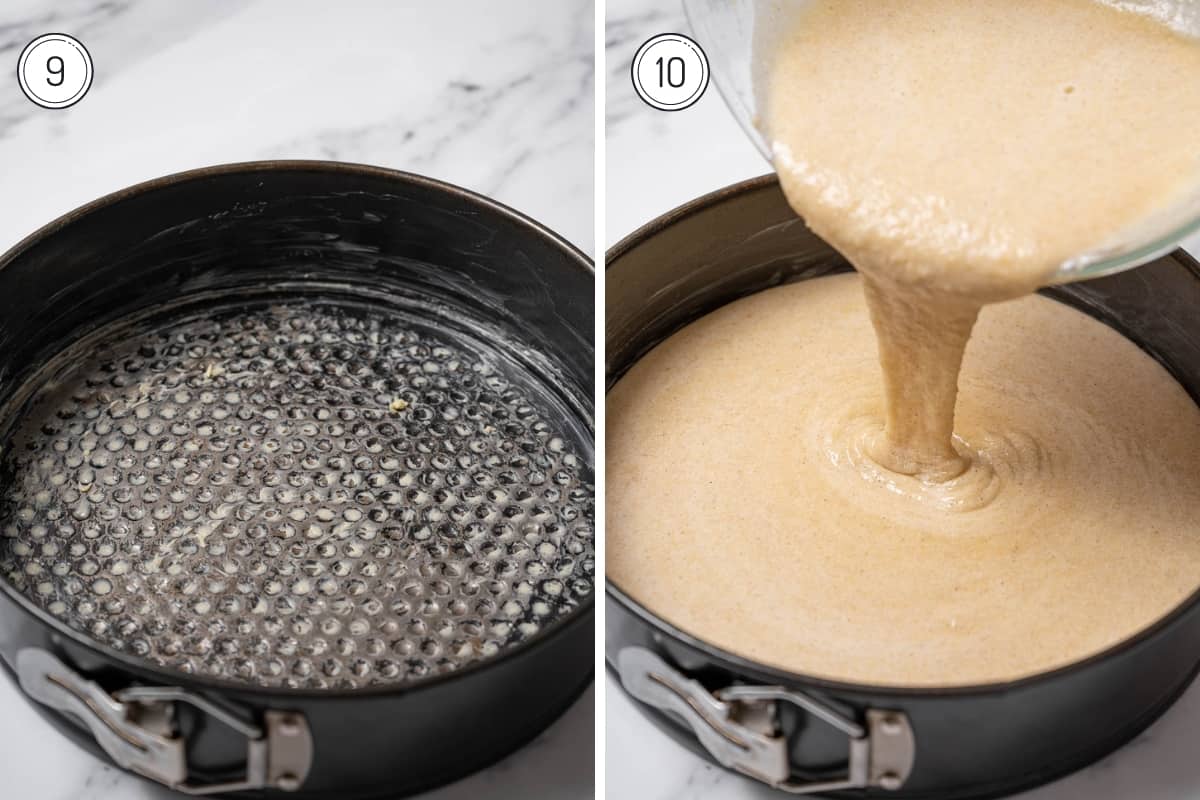 Steps 11-14: When the cake is done, allow it to cool. Then use a stencil to make the shape of the Saint James cross on top. Cover the cake with the cutout and dust with powdered sugar. When totally covered, carefully remove the stencil. Voila! A beautiful tarta de Santiago!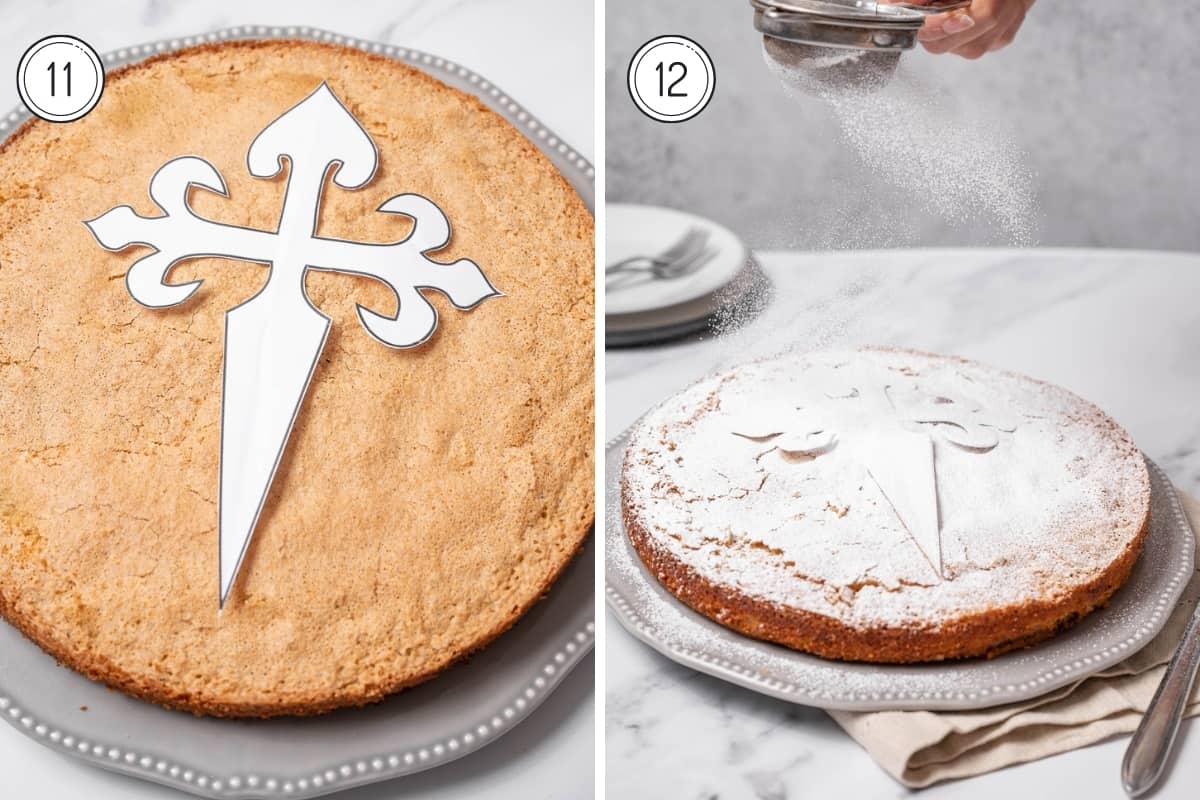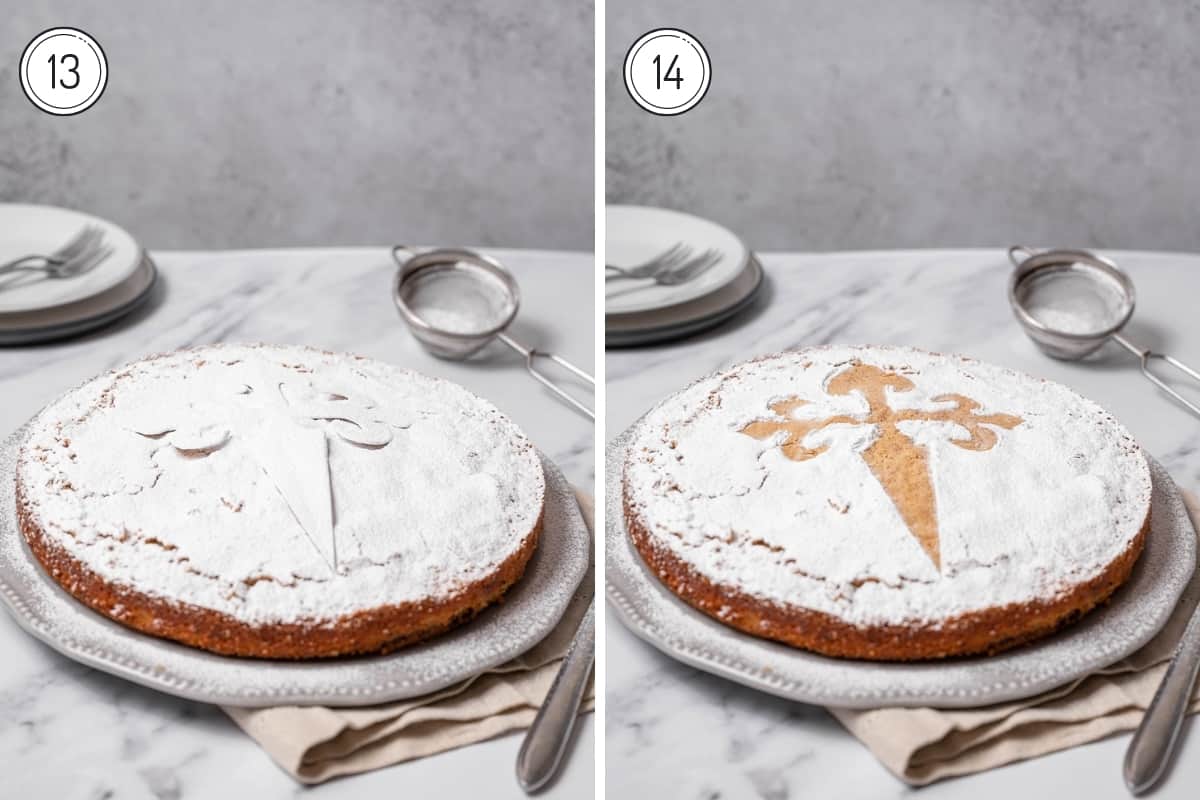 Recipe Tips & FAQs
Making this cake is super simple, but be careful not to over bake it. A dry tarta de Santiago is no fun!
What is the history of tarta de Santiago?
The first mention of this Spanish almond cake dates back to 1577. It was known for being a mix of equal parts almonds, eggs, and sugar. It is named after Santiago de Compostela and Saint James (Santiago), the patron saint of Galicia.
Is Tarta de Santiago gluten free?
It is! A traditional tarta de Santiago recipe does not include any wheat flour (only ground almonds). This makes the Spanish almond cake recipe naturally gluten free.
How should I store tarta de Santiago?
Store your leftover cake at room temperature wrapped in plastic wrap or an airtight container. It can keep outside of the fridge for up to three days. You can also freeze slices of the cake for up to three months.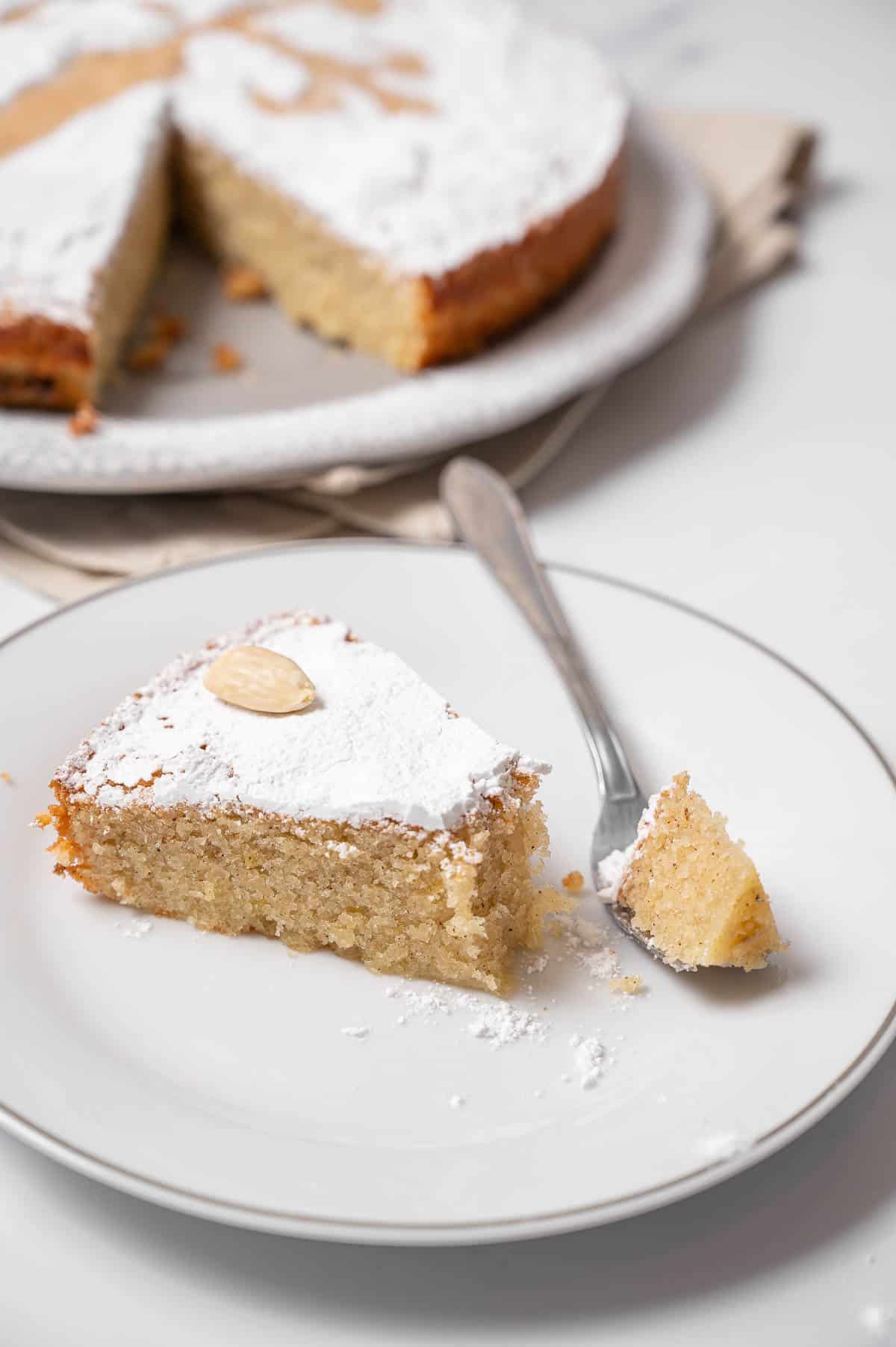 More Delicious Spanish Cake Recipes
If you love this easy Spanish almond cake, don't miss these!
Spanish Almond Cake (Tarta de Santiago Recipe)
This is my favorite tarta de Santiago recipe, a popular Spanish almond cake that is typically made in Galicia.
Print (images optional)
Pin
Rate
Servings: 8 slices
Calories: 323.41kcal
Instructions
Preheat the oven to 350°F (175°C)

Pulse the almonds in a food processor until finely ground, however be careful not to turn the mixture to almond butter by over processing.

Beat the egg and sugar until the mixture is pale and creamy.

Add the lemon zest, liquor, and cinnamon.

Fold in the ground almonds using a rubber spatula.

Grease a 10 inch (25 cm) springform pan with butter and pour in the almond cake batter.

Bake for about 30 minutes, until the cake is golden brown. Test with a toothpick and if it doesn't come out clean cover the cake with aluminum foil and bake for five more minutes, then test again. Do this one more time if necessary (for 40 minutes in total).

Allow the cake to cool in the pan, and then transfer to a serving dish.

Decorate with powdered sugar, if you wish you can download a printout of the emblematic cross of Saint James.
Notes
I recommend using a 10-inch springform pie dish for this recipe– but in Spain we improvise! Adjust bake time for a smaller dish if using.
Nutrition
Calories: 323.41kcal | Carbohydrates: 37.95g | Protein: 9.4g | Fat: 16.48g | Saturated Fat: 1.84g | Trans Fat: 0.01g | Cholesterol: 102.3mg | Sodium: 39.41mg | Potassium: 39.69mg | Fiber: 3.1g | Sugar: 32.27g | Vitamin A: 149.24IU | Vitamin C: 0.01mg | Calcium: 77.02mg | Iron: 1.58mg
Update Notice: This recipe was originally published on June 7, 2015, and was republished with new text on September 16, 2021.
My tarta de Santiago recipe may not be very complicated, but it is packed with flavor. It comes out perfectly moist and tastes like its ingredients– almonds, sugar, and eggs.
What do you think? Is my Spanish almond cake on the menu this week? I hope so!
Photography by Giulia Verdinelli