A simple and forgiving Spanish dinner, this stuffed eggplant recipe (berenjenas rellenas) is easy and delicious. It makes the perfect mid-week meal!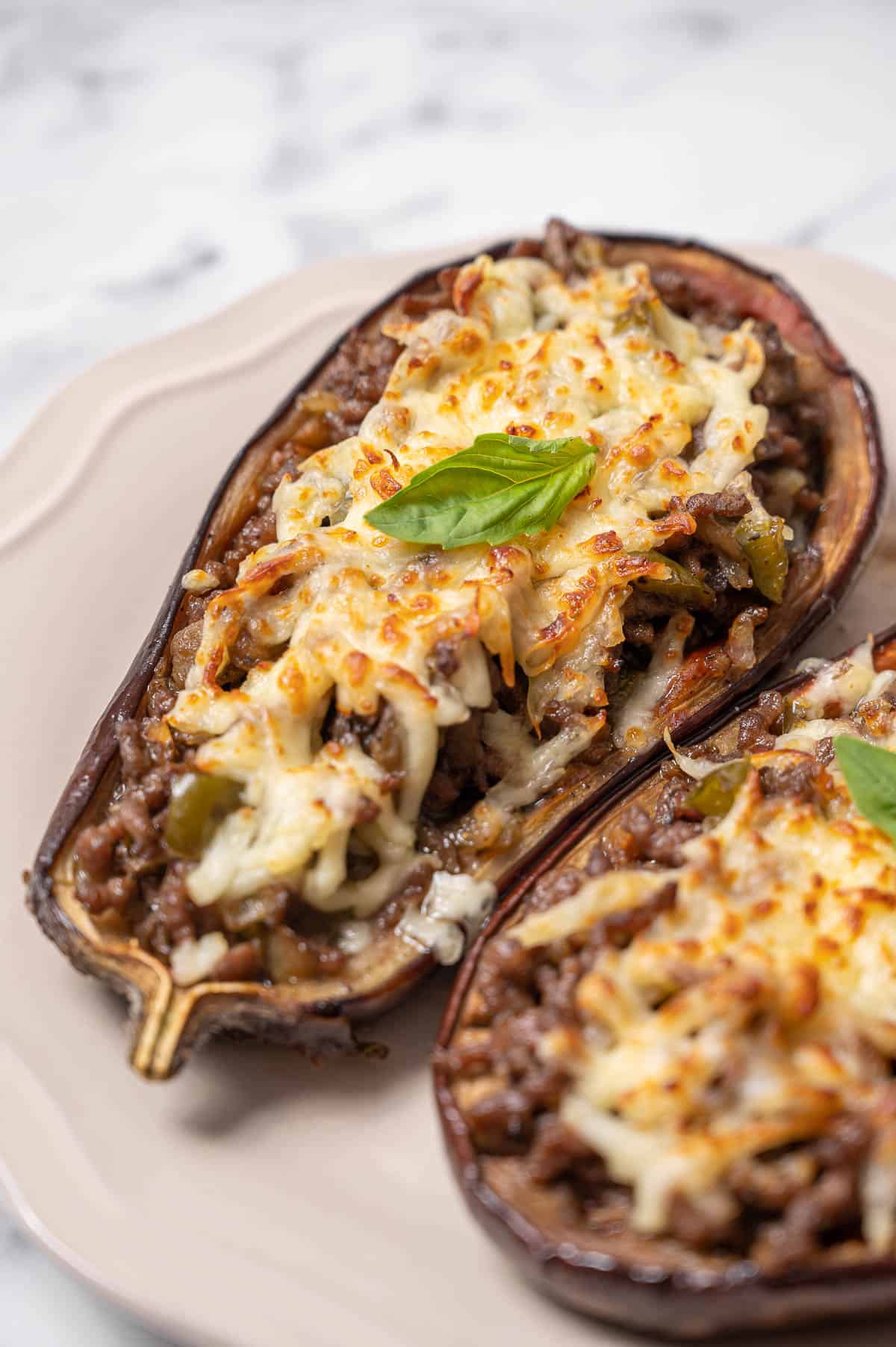 Spanish stuffed eggplant (berenjenas rellenas) are a staple in my mother-in-law's kitchen. If we stay with her for more than a few days at a time, it is almost guaranteed we will have stuffed eggplant– at least once!
You see, Antonia is the typical Spanish mother and housewife– she cooks delicious homemade meals every day, but she usually limits herself to what she knows. She could probably make her signature dishes (salmorejo, croquettes, and this delicious stuffed eggplant recipe) in her sleep!
Although she taught me most of her best dishes while I was living with her, for some reason we missed the berenjenas rellenas. So when she came to visit recently, I didn't miss the opportunity to get her stuffed eggplant recipe– and that meant watching her make them.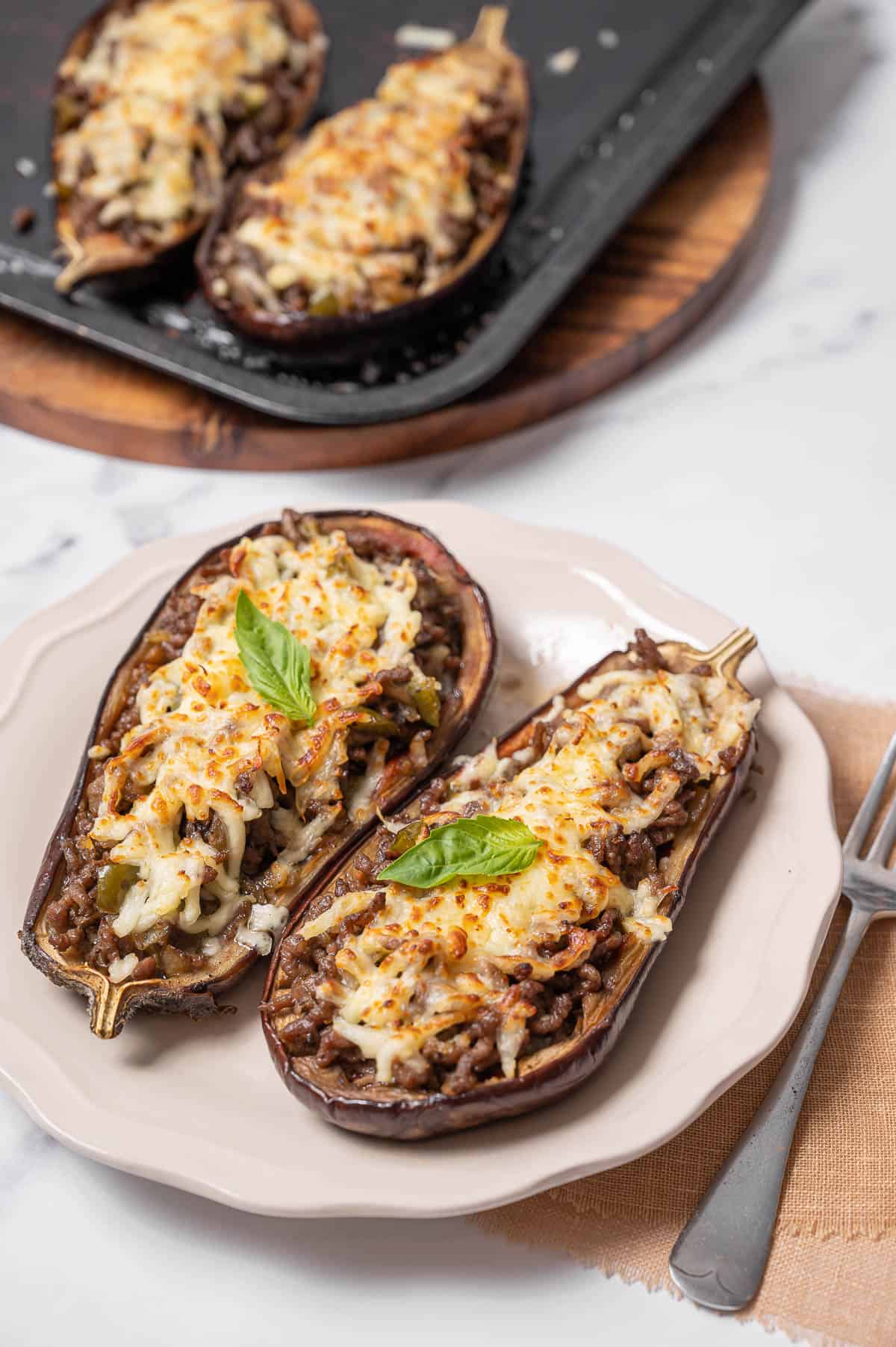 If I so much as blinked my eyes, I would miss a step, and Antonia didn't quite understand why I had to take so many pictures of the process. But I paid close attention, and (hopefully) the recipe below for Spanish stuffed eggplants will impress you as much as it has impressed me over the past few years.
Key Ingredients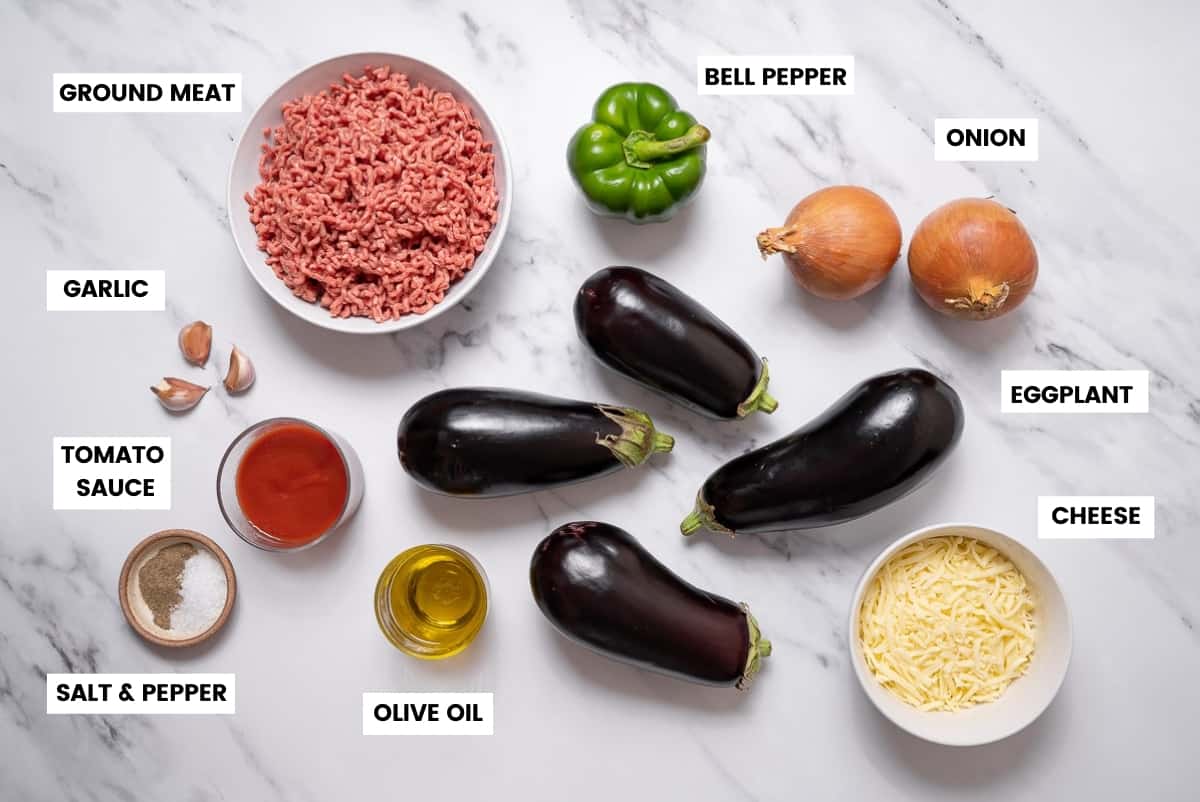 Key Ingredients: Ground meat, eggplant, bell pepper, onion, garlic, tomato sauce, olive oil, salt, pepper, and cheese.
Ingredient Notes & Substitutions
These are very forgiving and can really take on a variety of substitutions. Some suggestions are below!
Ground Meat: My mother-in-law uses a combination of minced pork and beef — but you can use either, or substitute ground lamb. And scroll down for a vegetarian filling I love!
Bell Pepper: We traditionally use green bell pepper, but try what you have on hand. Sometimes I add a fresh minced jalapeño pepper too for a kick of heat.
Tomato Sauce: Here we use a good tomate frito. You can also use cooked tomato sauce or passata.
Cheese: This is optional, as the dish would be delicious without. But it's a must in our house!
Vegetarian Adaptation
To make a vegetarian version of Spanish stuffed eggplant, you'll want to replicate the ground meat with vegetarian ingredients. I usually use a mixture of finely minced carrots and mushrooms, lentils, and ground walnuts. It's a really good base for chili recipes too!
Spanish Stuffed Eggplant: Step by Step
Follow along with my photo tutorial here, or keep scrolling down for the full printable recipe card.
Steps 1-2: Cut the eggplants in half lengthwise and make crisscross cuts through the flesh. Don't pierce all the way through the skin!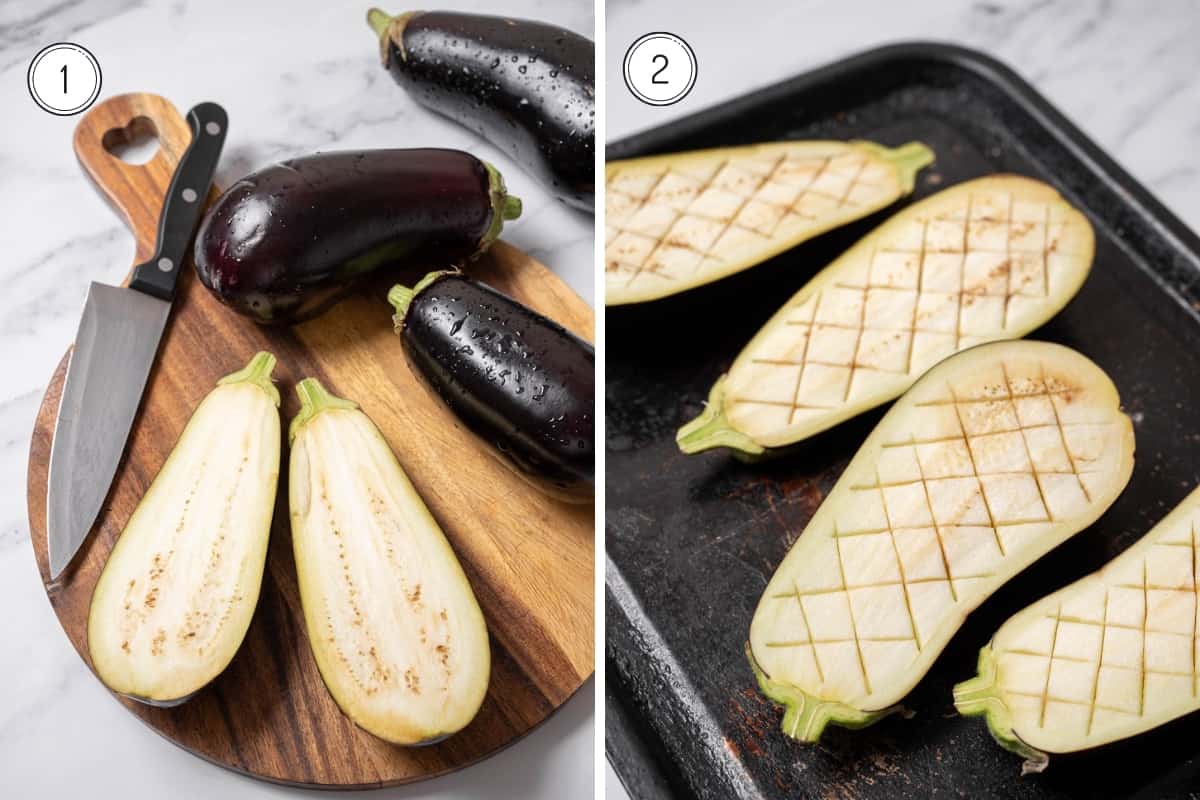 Steps 3-4: Drizzle with extra virgin olive oil and sprinkle with salt and pepper.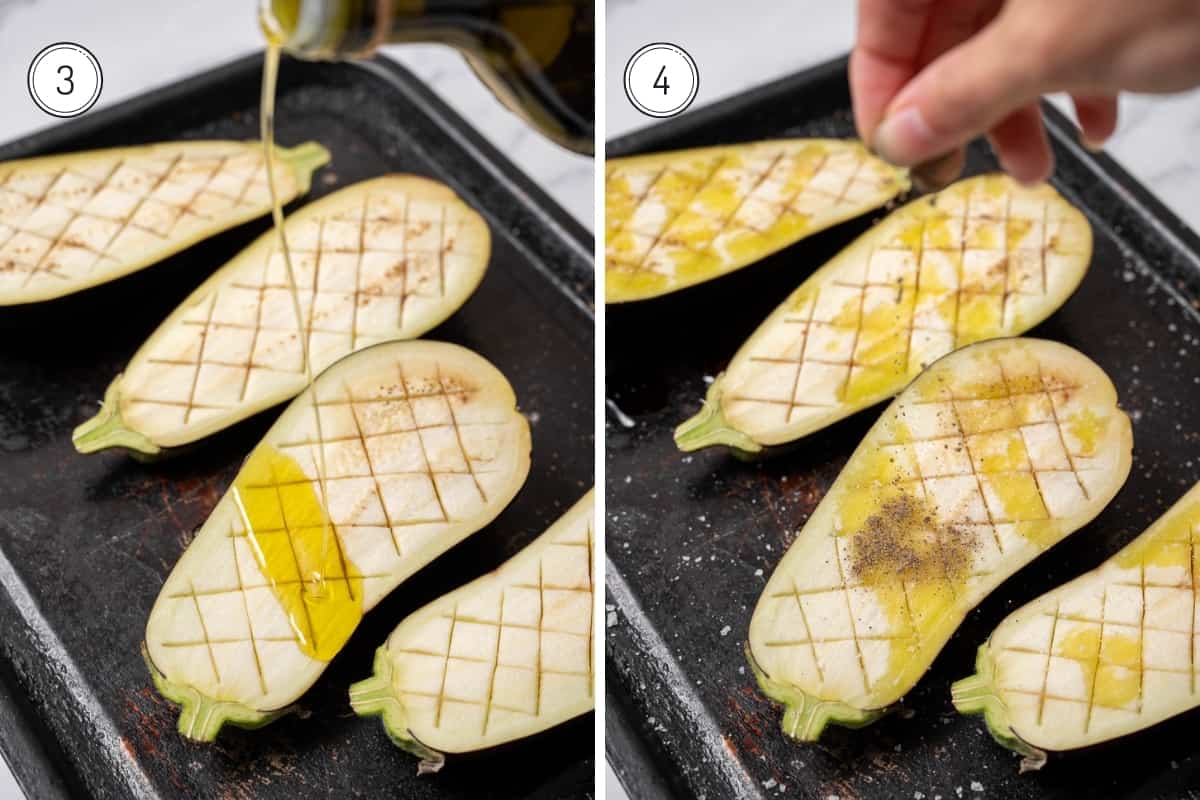 Steps 5-6: Bake for about an hour, until the flesh is tender and easy to scoop out.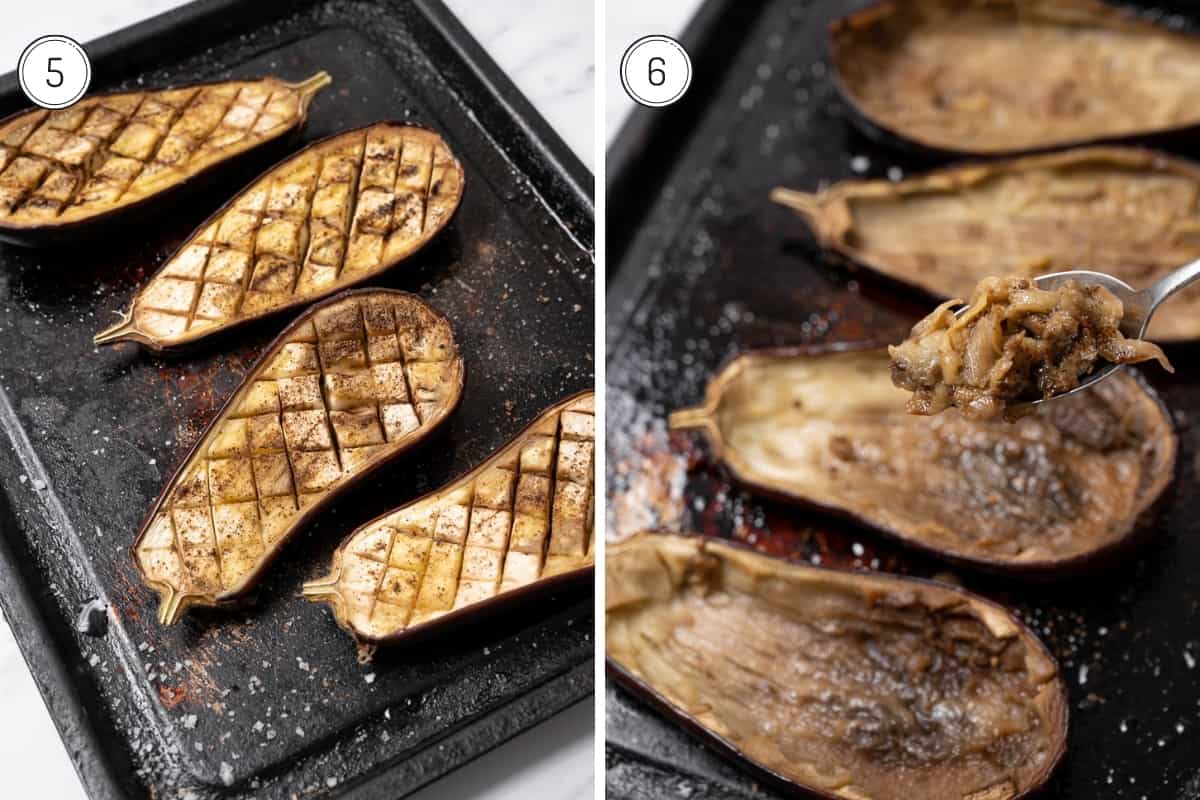 Steps 7-8: Now prep the veggies for the relleno (filling). I always use onion and garlic.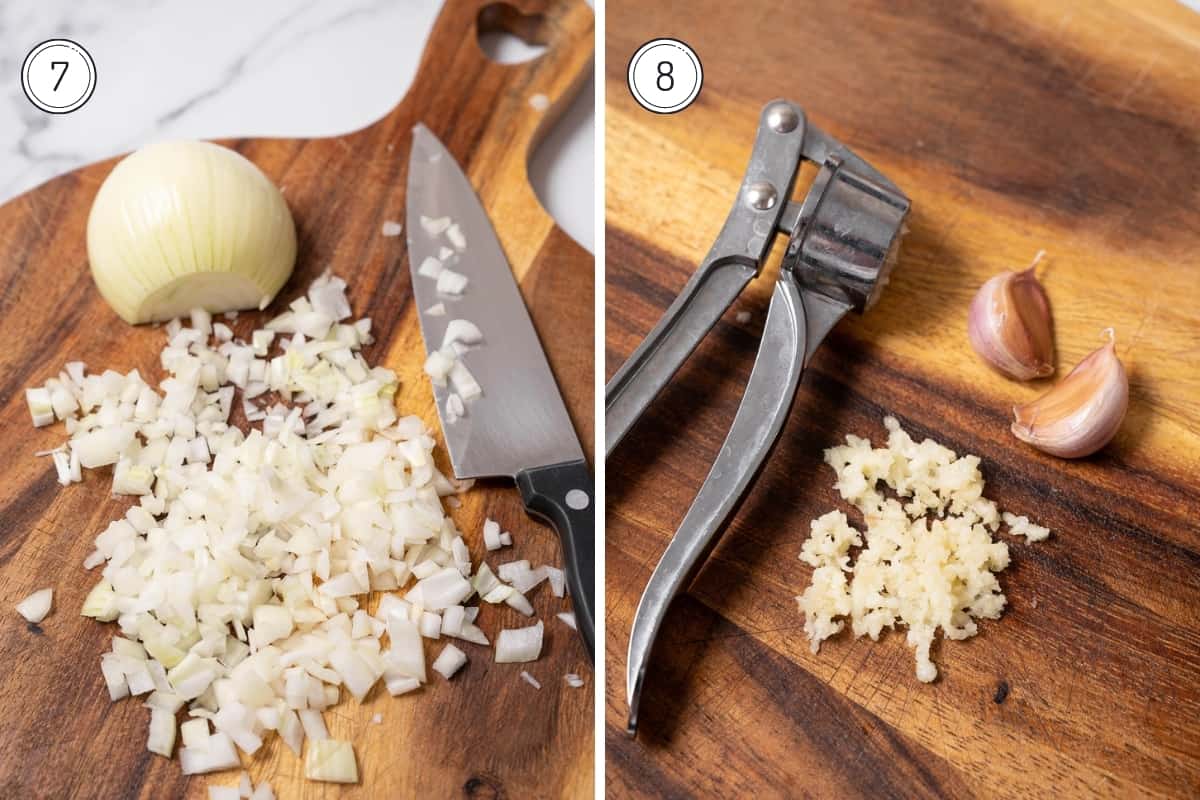 Steps 9-10: You can also use bell pepper (and optional other veggies like carrots, zucchini, or mushrooms). Sauté all of the veggies in olive oil until they start to brown (5-10 mins).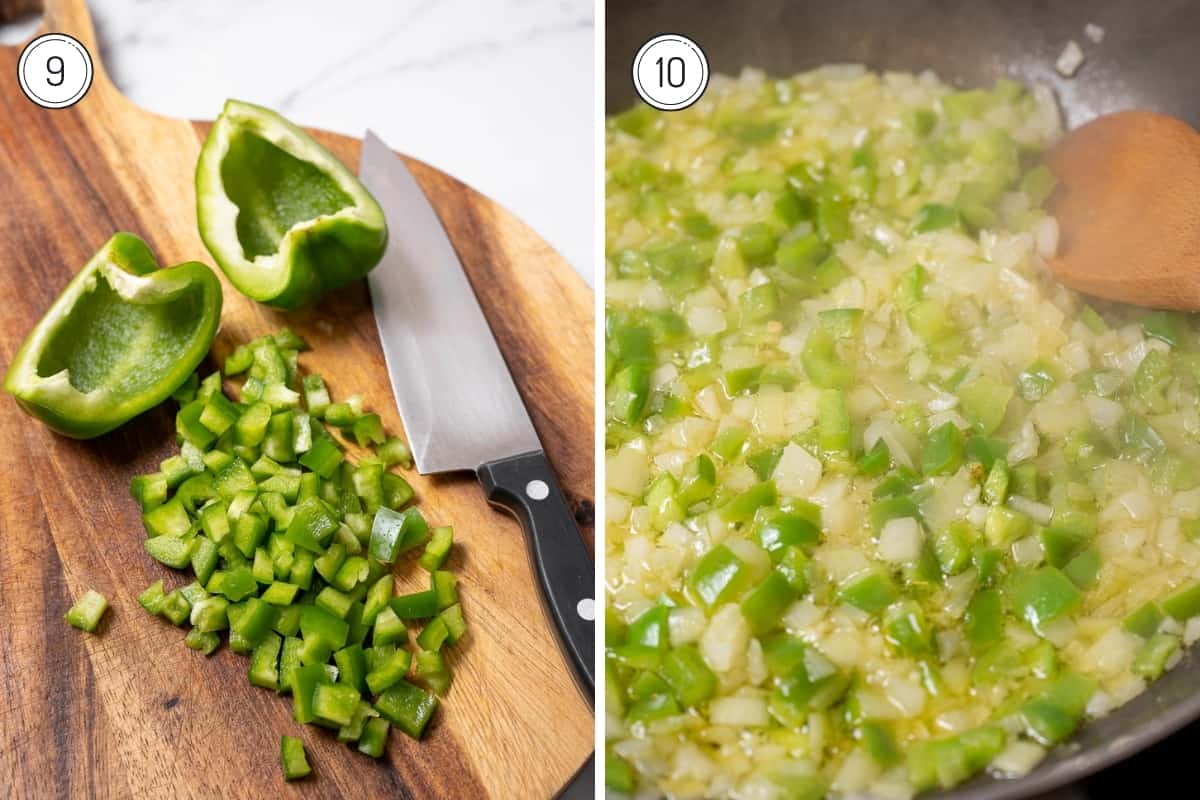 Steps 11-12: Now add back the eggplant flesh and the ground meat and sauté.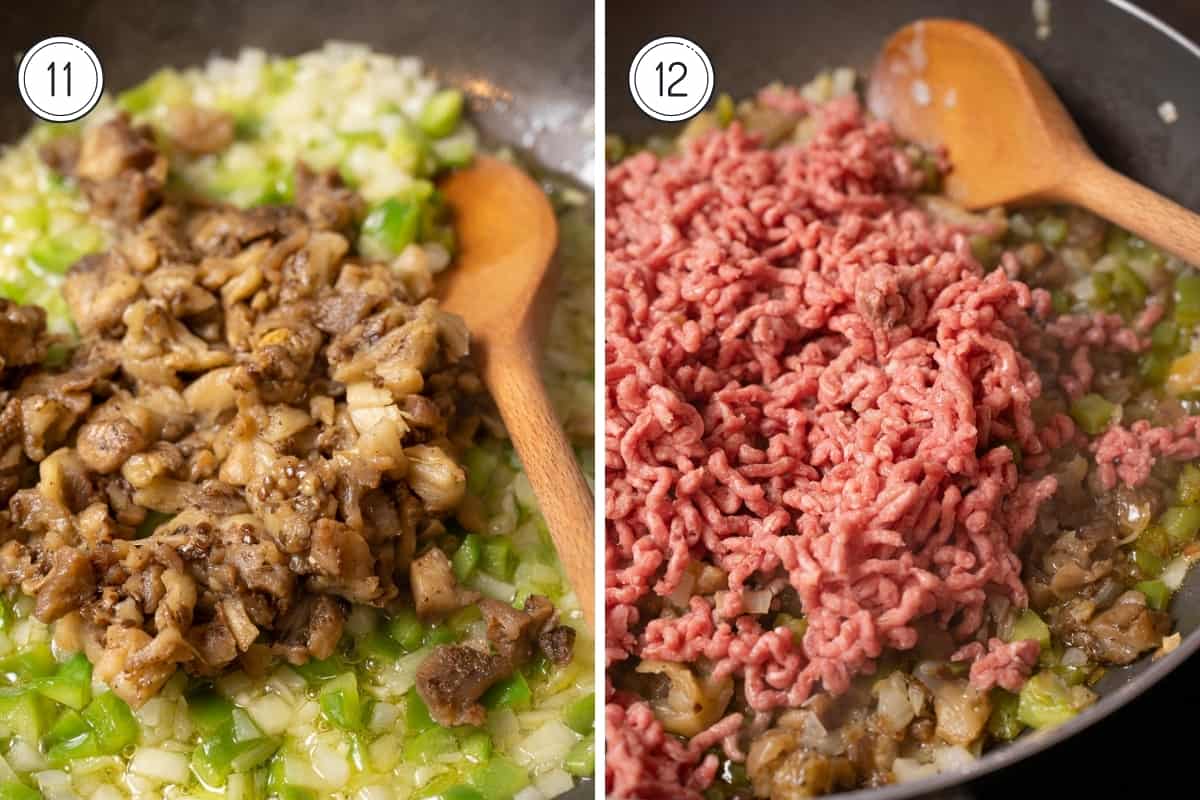 Steps 13-14: Season with salt and pepper and take the pan off of the heat. In the meantime, fill the empty eggplant skins with tomato sauce.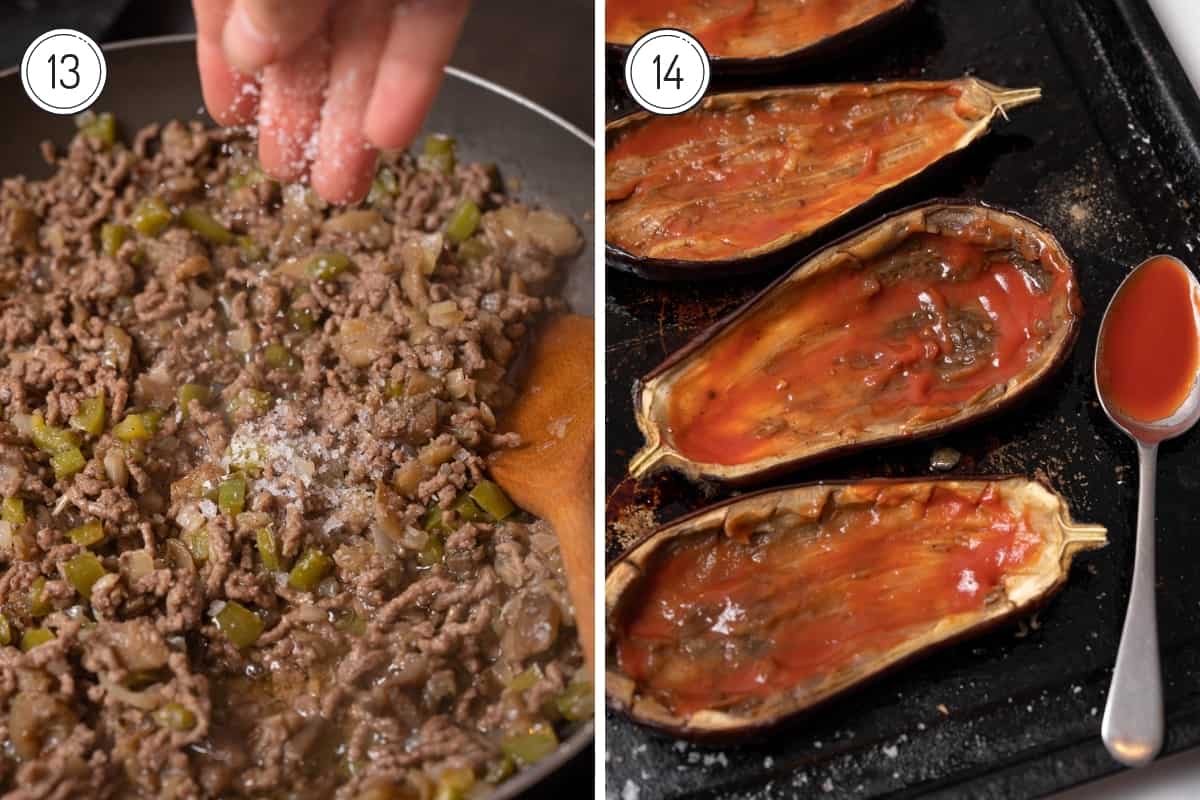 Steps 15-16: Stuff the shells with the filling and top with shredded cheese.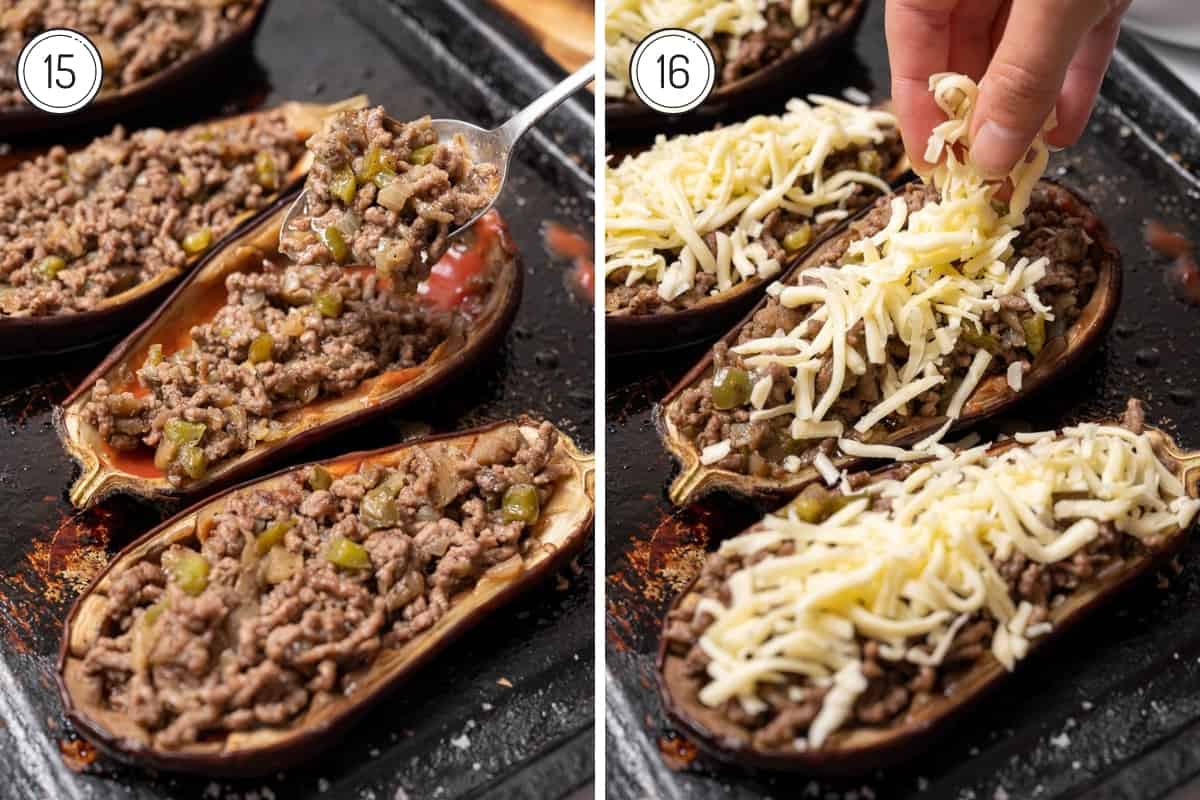 Steps: 17-18: Bake under the broiler (top grill) until just browned. Remove and let rest for about 10 minutes before eating. Enjoy!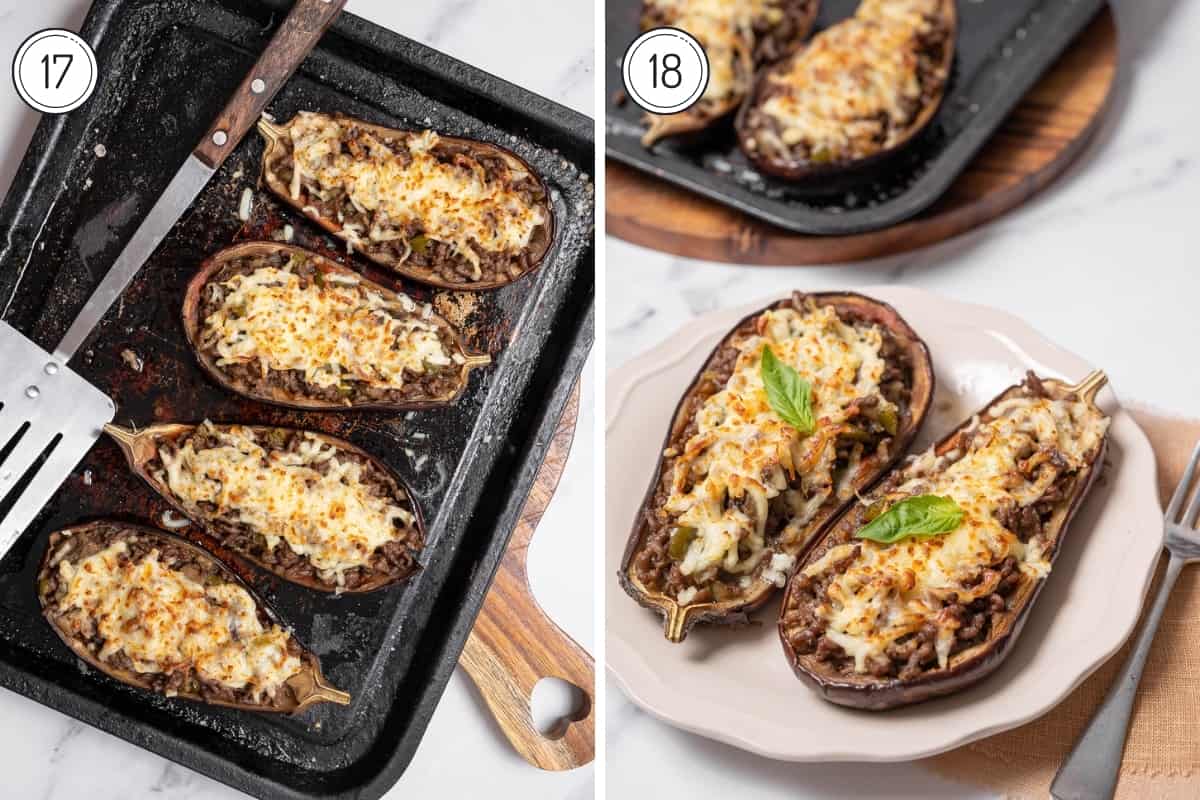 Recipe Tips & FAQs
Can I make vegetarian stuffed eggplants?
Yes! I love substituting the meat to make these vegetarian. Use a mixture of finely minced carrots and mushrooms, lentils, and ground walnuts
How long do these stuffed eggplants last in the fridge?
These Spanish eggplants will last up to three days in the refrigerator stored in an airtight container.
Can I freeze stuffed eggplant?
Yes! These are amazing freezer meals. Just pull them out when ready and let them defrost in the fridge. If you're in a hurry, you can also bake them in the oven at 300°F (150°C) until warmed through.
Are stuffed eggplants healthy?
So many people ask me if this recipe is healthy. Absolutely! I like to think of it as a much healthier version of pizza. And when I don't want the added saturated fat from the meat, I simply make the vegetarian version.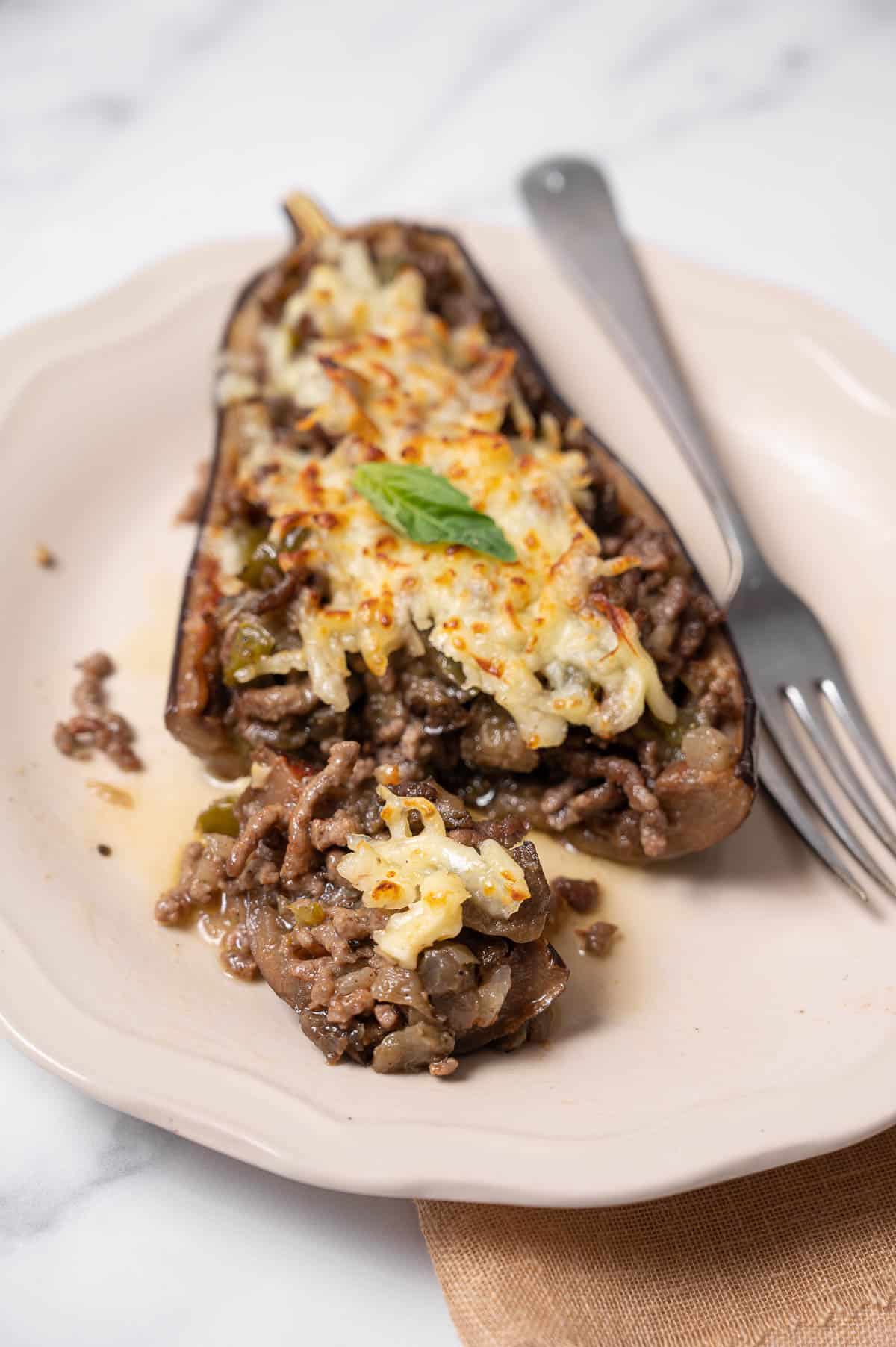 Serving Suggestions
I love to enjoy these stuffed eggplants as a healthy main meal, usually with a salad or cold soup on the side.
More Spanish Vegetable Recipes
If you like the look of these stuffed eggplants, you don't want to miss these similar Spanish recipes!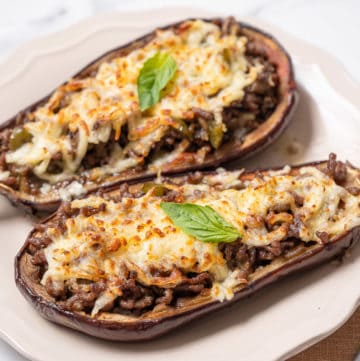 Spanish Stuffed Eggplant Recipe (Berenjenas Rellenas)
My mother-in-law's traditional Spanish stuffed eggplant recipe (berenjenas rellenas) is a staple in my house!
Print (images optional)
Pin
Rate
Servings: 4 servings
Calories: 464.5kcal
Instructions
Preheat the oven to 300°F (150°C)

Wash the eggplants well and cut them in half lengthwise

Put them on a baking sheet, skin side down and make crisscross cuts through the flesh

Drizzle with lots of olive oil and sprinkle with sea salt and freshly ground pepper

Bake for 45 minutes to 1 hour, until flesh is completely tender and easy to scoop out

Take the eggplants out of the oven and let them rest for 15 minutes covered in aluminum foil while you prepare the filling (this ensures they're easy to scoop)

Mince the garlic and dice the onion and pepper very small

Saute the diced vegetables in hot olive oil while you scrape out the flesh of each eggplant and add it to the pan

When the vegetables are starting to brown, add the ground meat (or the vegetarian mixture) and saute until cooked through

Season with salt and pepper and remove from the heat

Let the mixture rest for a few minutes before filling the empty eggplant skins

To fill the skins, first add a layer of tomato sauce to the empty skins before filling

Fill each skin to the top, and cover in mozzarella cheese

Put under the broiler until just browned on the top

Enjoy your Spanish stuffed eggplants!
Notes
These will last in the fridge for up to three days when stored in an airtight container
These freeze really well (up to three months)
To defrost, keep in the fridge and then bake at 300°F (150°C) until warmed. HYou can bake directly but it will take longer.
Nutrition
Calories: 464.5kcal | Carbohydrates: 39.7g | Protein: 22.65g | Fat: 26.39g | Saturated Fat: 8.45g | Polyunsaturated Fat: 1.68g | Monounsaturated Fat: 13.03g | Trans Fat: 1.05g | Cholesterol: 64.81mg | Sodium: 628.87mg | Potassium: 1755.16mg | Fiber: 16.73g | Sugar: 23.55g | Vitamin A: 687.57IU | Vitamin C: 45.77mg | Calcium: 117.58mg | Iron: 4.04mg
Update Notice: This post was originally published on October 12, 2012, and was republished with new text and photos on August 19, 2021.
Please let me know if you try my delicious Spanish stuffed eggplant recipe. Antonia loves her berenjenas rellenas and I'm sure she would love to hear your feedback!
Photography by Giulia Verdinelli